World news story
UK supports a low carbon and climate resilient Kolkata
UK companies offer support towards developing a low carbon and climate resilient Kolkata.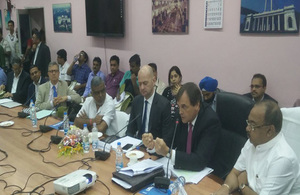 UK companies specialising in urban design and planning visited Kolkata and met with Kolkata Municipal Corporation (KMC) and state government officials on potential areas for collaboration in the low-carbon sector. An interactive session titled 'Showcasing UK expertise towards developing a low carbon and climate resilient Kolkata' provided the platform for British businesses to discuss and understand the strengths and opportunities in Kolkata's low-carbon sector and also provide their expertise and solutions.
British High Commissioner to India Dominic Asquith, Hon'ble Mayor of Kolkata Sovan Chatterjee, Municipal Commissioner Khalil Ahmed, and the British Deputy High Commissioner Kolkata Scott Furssedonn-Wood spoke at the event. PwC gave a presentation on the proposed interventions in the UK-KMC low-carbon roadmap to be implemented in the coming years. Ten UK companies specialising in waste, energy and water management, smart parking, street lighting and renewable energy presented their expertise and offer to the delegates present at the event.
Speaking at the event, the British High Commissioner to India said:
The KMC-UK Memorandum of Understanding (MoU) for a green and smart Kolkata is a fantastic example of what greening the economy looks like in practice – creating business opportunities in low-carbon growth; reducing carbon emissions, building skills and capacity and making cities more climate resilient.
Further information
UK and Kolkata have a longstanding partnership on promoting sustainable development in the city. The UK-KMC roadmap was launched in January 2016 by the then Minister for Skills Priti Patel. The British Deputy High Commission, Kolkata, signed an MoU with KMC during the visit of the then UK Prime Minister David Cameron.
The MoU delivered a £1 Million Technical Assistance Programme aimed at the following:
to reduce greenhouse gas emissions and electricity bills and also respond to the impacts of a changing climate
to introduce policies and schemes to generate new sustainable economic opportunities through green job creation
to introduce state-of-the-art municipal services that support clean and green development of the city
Profiles of participating UK companies
For media queries, please contact:
Stuart Adam, Head,
Press and Communications
British High Commission, Chanakyapuri
New Delhi 110021
Tel: 44192100; Fax: 24192411

Mail to: Mainak De
Follow us on Twitter, Facebook, Flickr, Storify, Eventbrite, Blogs, Foursquare, Youtube, Instagram, Vine, Snapchat @UKinIndia, Periscope @UKinIndia
Published 19 July 2016