World news story
UK Supporting Development of Corporate Governance in Burma
Broad agreement that strong systems and governance will be vital to ensuring Burma's private sector can sustain itself, benefit from foreign investment and compete effectively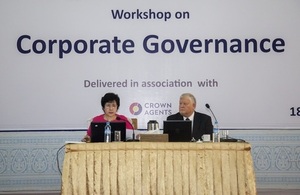 The UK Financial Services Taskforce, made up of the British Government and UK private sector organizations, is hosting a 3-day workshop to highlight and start to take forward the important issue of implementing good Corporate Governance. The workshop drew participants from government and business, including Professor Aung Tun Thet, Economic Advisor to H.E President U Thein Sein, Dr Maung Maung Lay, Vice-President of the Union of Myanmar Chambers of Commerce and Industry (UMFCCI), as well as over 100 representatives from the domestic business sector.
There was general agreement from panelists and attendees that good Corporate Governance would be essential to domestic private sector competitiveness and Burma's overall economic efficiency.
Speaking at the opening of the workshop on 18 November at the UMFCCI, British Ambassador Andrew Patrick said:
We have all seen the impressive growth figures and headlines about this county being the fastest growing in Southeast Asia. Yet, there is also strong agreement that strong systems and governance will be vital to ensuring that this economic growth is strong, sustained, and equitable.
British businesses are increasingly active in this country and looking to partner with local companies. But to make these potential relationships and benefits become real there needs to be a shared understanding and application of corporate governance. Sound corporate governance implementation will also be crucial for local companies attracting capital and being able to compete, particularly once the ASEAN Economic Community (AEC) is established. So there are clear reasons for starting now.
Dr Maung Maung Lay, Vice-President of the UMFCCI, spoke of the catching up required in Burma's business sector, saying:
The country has in effect been hibernating, not incubating, and we have awoken to find that we have been left behind. Systems are outdated and policies murky. With a flood of potential investors and the impending AEC, we must now face the reality and take action. This workshop will allow the participants to absorb important information and become the drivers of change and we are proud to be partnering with the British Embassy and UK Financial Services Taskforce.
Professor Aung Tun Thet, Economic Advisor to H.E President U Thein Sein, focused on some specific key steps, saying:
The biggest challenge for our private sector is implementing good corporate governance. We need to grasp the shift from shareholder to stakeholder and the separation of ownership and management. This is an important seminar; not just for corporate governance but for overall responsible business. This is good for our businesses who I urge to do well - but also to do good.
Further information
The workshop was delivered in conjunction with Crown Agents. For further information on this workshop and the UK Financial Services Taskforce please visit the website: www.ukmyanmarfinancialtaskforce.com
The UK Financial Services Taskforce is made up of the British Government, Allen & Over, Prudential and Standard Chartered Bank. It was established during the visit of H.E. President U Thein Sein to London in July 2013. It seeks to support the holistic development of Burma's financial sector, providing relevant training to the private and public sectors, as well as acting as a sounding board to the Minister of Finance, the Attorney General and the Governor of the Central Bank.
This initiative falls under the UK Government's 'Prosperity' agenda, which seeks, in partnership with local institutions, to increase exports and investment, open markets, ensure access to resources and promote sustainable global growth.
Published 19 November 2014