World news story
UK supporting Burma's efforts to join renewable energy revolution
Speech by Head of Prosperity Tony Preston at an event on renewable energy opportunities for Burma in Rangoon on 15 December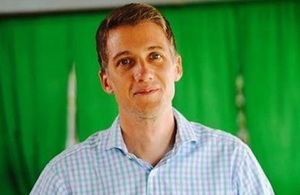 The work of the British Embassy's Prosperity Team focuses on three areas: economic stability and growth, sustainable energy, and climate change. All interlinked issues that I'm sure we all hope will be Burma's prosperity story. We have all seen the impressive growth figures being attached to this country; 8.5% growth year on year, a quadrupling of the economy by 2030. To achieve this, to lift people out of poverty, to develop the domestic business sectors and attract investment, access to electricity must increase.

There are ambitious national plans to achieve 100% access to electricity, up from the current 33%, by 2030. The question, of course, is how? The traditional, some might say out-dated, answer would have been a coal-based energy mix. The argument often put forward for coal is that it is cheap and quick. However, the cost argument is increasingly against, not for, coal. As coal reserves become scarcer this cost will only increase, particularly for countries, like Burma, that will be dependent on importing coal supplies. Add in the health and economic costs to society, as well as the damage to ecosystems, which provide an economic dividend, and coal becomes an even more expensive choice. And whereas all but a few international donor organisations and investors have an appetite for supporting high carbon energy infrastructure, there is strong willingness from many countries, including the UK through our UK Export Finance (UKEF) agency, to support renewable energy options. What these investors need is to see signs of commitment and the development of national strategies and frameworks. On the issue of time, the speed at which wind, solar and small-scale hydro can be installed and provide power to communities is increasing.

And then we come to the issue of climate change. This country is on the front line, this year's flood reminded us of that. Indeed, a recent study ranked this country as the second most at risk globally from negative climatic impacts. It was positive therefore to see the country submit its Intended Nationally Determined Contribution ahead of the recent UN climate negotiations in Paris. Renewable energy features quite heavily in the document. It commits to:

Increased share of hydroelectric generation to 9.4GW by 2030
Rural electrification through the use of at least 30% renewables

Globally, the UK is working with like-minded partners to support the United Nation's Sustainable Energy for All agenda, to mobilise international action towards achievement of three, interlinked objectives by 2030: providing universal access to modern energy services; doubling the global rate of improvement in energy efficiency; and doubling the share of renewable energy in the global energy mix. This agenda has received a huge boost in the last few days, with the adoption of the historic Paris Climate Accord at COP21. This agreement has been described as signalling the end of fossil fuel driven economic growth and the advent of the era of renewable energy, with investors now having the global commitment to strengthen their confidence in the renewable and low-carbon infrastructure markets. There might never have been a better time for a country looking to expand and upgrade its energy architecture through renewable sources than now.

Which brings me back to the situation here in Burma. Important decisions now rest with the people of this country and their new government. To meet increasing energy needs, to ensure an energy mix that is sustainable and economically viable and meets its own stated goals of helping tackle dangerous climate change, will not be easy. The UK Government and private sector is happy to be part of these deliberations as this country continues what we hope will be its sustainable equitable development.
Published 16 December 2015