UK Support for the Tunisian Ministry of Interior
Continued UK support for the establishment of Strategic Planning Units within the Tunisian Ministry of Interior.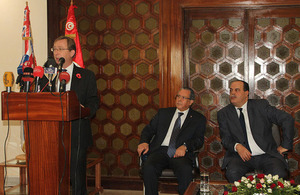 The British Ambassador to Tunis, Hamish Cowell and The Tunisian Minister of Interior, Mohammed Najem Gharsalli, jointly announced on 5 November 2015, the implementation of the work plan of the dedicated Strategic Planning Units within the Ministry of Interior.
The establishment of Strategic Planning Units within the Ministry of Interior was first announced by the Ministry of Interior in October 2014 (insert link to earlier article) within the framework of a project to support security strategic planning in Tunisia.This project is being delivered by Aktis Strategy Ltd, a UK company funded by the Embassy to provide the Ministry with specialist assistance in security strategic planning. The involvement of UK expertise was highlighted by Mr Gharsalli in his comments to the press.
In the period since October 2014, the staff that will work in these units have followed a one year training programme in strategic planning. The event on 5 November included the graduation ceremony for all those who have completed this training programme.
Strategic planning is a vital tool with which the Ministry can increase security for all Tunisians by improving the effectiveness, accountability and efficiency of its responses to key security threats. Strategic planning enables this through managing risk, more effectively deploying resources, coordinating plans and operations across the Ministry and with other Tunisian and international agencies, and planning to tackle key security threats such as border security and terrorism. It boosts the Ministry of Interior's capacity to work with domestic and international partners to improve security for the people of Tunisia. Strategic Planning Units will be located in the Ministry, with similar units in the National Guard, National Security and the Civil Protection. The units are now ready to start work.
During the event, Ambassador Hamish Cowell declared that The United Kingdom and Tunisia have been working closely together over the last two years to take forward the Ministry's strategic reform plan, and to help ensure that the Ministry can more effectively and efficiently deal with Tunisia's security challenges and support the democratic transition. He also added "An important element of cooperation between Tunisia and the United Kingdom, was the provision of technical advice, training and coaching and we will continue to provide support to the Ministry in the coming months."
Published 6 November 2015