World news story
UK support for Police Video Recorded Interviewing Techniques
UK Government supports Fiji Police in getting training for Video Recorded Interviewing Techniques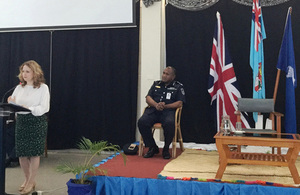 High Commissioner Melanie Hopkins delivered the keynote address and opened a course at the Fiji Police Academy in Suva yesterday (5 December) providing training for police on video recorded interviewing techniques.
The same course will also be held for police officers in Labasa and Lautoka. The course, delivered by Detective Constable Paul Essam of Norfolk Police in the UK, has been co-funded by the UK Government, Fiji Police and UNDP's Pacific Security Sector Governance Project.
In her keynote address, High Commissioner Melanie Hopkins said the UK was proud to support partners across the world, including the Government of Fiji, in implementing commitments in the context of the UN Convention Against Torture. She said the UK has worked directly and indirectly on the roll-out of video evidence in a number of countries, particularly Commonwealth countries and had seen first-hand the transformative effect this had on the security and judicial system, as part of a package of broader reform. Ms Hopkins said the UK welcomed the cooperation with other pillars of the judicial and security sector this programme had generated. She said the UK will continue to look to this cross-agency coordination to strengthen engagement with broader stakeholders in society.
This training is a follow up from training received by the Deputy Commissioner of Police and other senior officers in the UK in September this year together with the Director of Public Prosecutions and the Assisant Director of Public Prosecutions. The five-day training by the UK College of Policing in Norwich, UK was also on video recording of interviews.
The Government of Fiji is seeking closer ties with British law enforcement agencies to strengthen the capacity and performance of the Fiji Police force in this area.
Published 6 December 2016