World news story
UK strengthens the capabilities of officials in security and port protection
High level officials from the Government of Guatemala and members of the private sector participated in a seminar aimed at increasing their knowledge of policies and techniques used to combat illicit trade.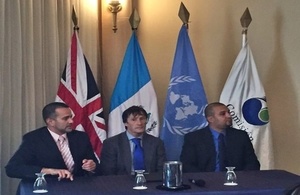 The training was provided by the United Nations Office on Drugs and Crime - Regional Office for Central America and the Caribbean in Panama (UNODC-ROPAN), and the National Port Commission (CPN) of Guatemala, with funding of the British Embassy in Guatemala in the framework of supporting the Government of President Jimmy Morales to strengthen the State's finances and combat corruption.
Officials from the Public Prosecutor's Office (MP), the Tax Collection Agency (SAT), the National Police, the Ministry of Defence, and private terminal operators, amongst others, discussed issues such as good practices to strengthen customs control, legal implications of illegal trade, mechanisms to prevent corruption in customs, and the impact of smuggling on the health of consumers.
The workshop also provided an opportunity to explore the level of illicit trade, taking into consideration its repercussions on the economy, society and the citizens of Guatemala. Additionally, the participants exchanged valuable experiences with British expert John McKendrick, international lawyer, specialized in anti corruption issues, and a speaker during the seminar.
To mark the event, Andrew Tate, Chargé d'Affaires at the British Embassy in Guatemala, said:
We are very pleased to facilitate this event. The problem of contraband is felt both in the UK and in Guatemala. Illicit trade is a problem with transnational consequences. These have a negative impact not only on trade regimes but also on health, and contribute to insecurity. Contraband affects everyone –and Governments lose millions of dollars in unpaid taxes, money that could be used in infrastructure projects, education, health, and poverty reduction. That's why we must find common solutions to eradicate it.
Published 1 April 2016