World news story
UK strengthens Lao capacity on anti-money laundering
British Embassy supports workshop to strengthen Lao capacity to investigate cases of money laundering and the financing of terrorism.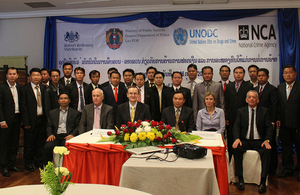 The British Embassy in Vientiane and Ministry of Public Security co-hosted a five-day workshop to further strengthen Lao capacity in investigating Money Laundering and the Financing of Terrorism on 2 – 6 February 2015 at Mercure Hotel in Vientiane Capital.
Led by experts from the UK's National Crime Agency and the UN Office on Drugs and Crime (UNODC), the workshop focussed on building investigative techniques to prevent and combat money laundering crime in Laos. The training materials developed for the course will be handed over to the People's Police Academy and other relevant departments of the Ministry of Public Security of the Lao PDR with the aim that an Anti-Money Laundering and Combating the Financing of Terrorism (AML/CFT) module can be included in the training of all future police officers in Laos.
Attended by officials from relevant departments and the Police Academy under the Ministry of Public Security, the event will assist Laos in meeting its Financial Action Task Force (FATF) objectives, by showing that investigative capacity is being built to use new legislation designed to combat and prevent financial crime.
The training event forms part of a package of support the UK government is providing to assist the Lao government's anti-money laundering efforts.
The project forms part of the British government's wider aims to work with relevant partners to promote an improved business environment in Laos and a rules-based international economic system.
Published 2 February 2015