World news story
UK strengthens capacity on human rights in Laos
British Embassy sponsors Lao government participation in training on international human rights law held in the UK.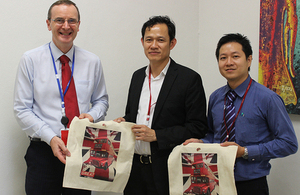 With support from the British Embassy's Bilateral Programme Fund, Lao officials Mr Douangmany Gnotsyoudom and Mr Thavisith Homsombath from the Department for Treaties and Law in the Ministry of Foreign Affairs (MoFA), will later this week commence a 10-week course in Humans Rights Law at the University of Nottingham's Human Rights Law Centre.
Following in the footsteps of the Director-General of the Department for Treaties and Law Mr Phoukhong Sisoulath who also studied Human Rights Law at Nottingham University under the UK government-sponsored Chevening scholarship programme, the two Lao officials will travel to the UK to participate in a training course aimed at giving an in-depth understanding of global human rights standards.
When asked what he would like to achieve from attending the course Mr Douangmany Gnotsyoudom said:
I hope that the course will benefit me and help me with my current work in the Ministry of Foreign Affairs and in my career working in Lao Permanent Missions both in Geneva and New York. With the knowledge gained from this course, I will help my government to actively engage with UN Human Rights systems.
The British Embassy Vientiane is committed to the promotion and protection of human rights in Laos and has funded a number of projects that support the development of civil society, increased adherence to international human rights standards and the dissemination of Laos' human rights obligations.
The two young officials will continue to play an important role on Laos' international human rights commitments on return from the UK. Upcoming milestones for the Lao PDR in the human rights field include the Universal Periodic Review (UPR) - a periodic process that examines the human rights performance across all UN Member States, and Laos' bid to become a member of the UN Human Rights Council for the first time in 2016/17.
Published 22 September 2014