World news story
UK strengthen ties of cooperation with Guatemala
The British Embassy, the United Nations Children's Fund (UNICEF), and the World Food Programme in Guatemala (WFP) attended the official event that announced important support of the UK Government for the National Coordinator for the Reduction of Disasters (CONRED) and the Guatemalan humanitarian system.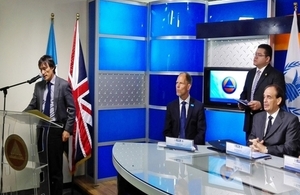 The aim of this collaboration is to increase CONRED's ability to handle the compilation, flow and management of information in emergencies. This was achieved through the acquisition of Lotus 9.1 license financed by the World Food Programme and UNICEF, with the support of the British Government for the amount of US$82,095.55, as part of the project Strengthening Capacities funded by the Department for International Development of the United Kingdom (DfID).
The implementation of this technology will allow the information from the United Nations, the NGOs and the humanitarian agencies of the country to be combined to establish gender, age or vulnerable groups, which will help in the analysis of risks and disasters. This will allow CONRED to provide local information at the municipal level so that it is taken into account nationally, including through the use of mobile phone to increase the speed of information flow. For Guatemalans, this collaboration presents an integral response to the increased number and frequency of disasters, new humanitarian scenarios like droughts, migrations and unconventional violence.
The event was attended by Mario Touchette, Representative and the director of the World Food Programme in Guatemala; Andrew Tate, Charge d'Affaires and current Head of Mission of the British Embassy in Guatemala; Christian Skoog representative of UNICEF and Alejandro Maldonado Executive Secretary of CONRED.
Mr. Tate participated on behalf of DfID. DfID leads the overall work of the United Kingdom to put end to extreme poverty. One of its priorities is helping to save lives during humanitarian disasters.
Published 30 July 2015