World news story
UK Statement to the UNHCR Standing Committee on International Protection, delivered in Geneva
UK Statement to the UNHCR Standing Committee, 21 June 2016.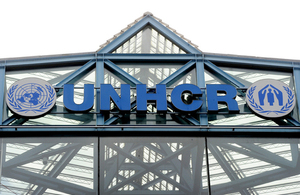 Mr. Chairman, Assistant High Commissioner
Thank-you for this update and this very useful and comprehensive report on international protection. We commend UNHCR for its robust response to the needs of refugees in so many humanitarian contexts globally.
The global displacement crisis has reached unprecedented levels, with 60 million people forcibly displaced, 20 million of whom are refugees. Combined with an increase in large-scale irregular migration, this has the potential to undermine controlled, safe and legal migration, erode public confidence, fuel organised crime and reduce resources for those in need of protection.
We welcome the reports' emphasis on "greater and sustained support for countries of first asylum". And its spotlighting of "the importance of addressing the root causes of displacement".
We believe we need to reinforce efforts to ensure that individuals fleeing persecution and requiring protection are granted effective protection in the first safe country they enter. Secondary movements, particularly using dangerous irregular routes, should be discouraged.
We need to provide targeted and durable solutions in countries that host significant numbers of refugees, and - as we did at the UK Syria Conference earlier this year – encourage greater focus on employment and livelihoods in development efforts to provide opportunities and increase prosperity.
We need to tackle the root causes of displacement, preventing and reducing conflict, strengthening implementation of International Humanitarian Law, safeguarding human rights and protecting civilians.
We note UNHCR's description of the growing numbers of IDPs globally (outnumbering refugees considerably) and the significant protection and humanitarian needs experienced by these. We believe UNHCR and States need to pay particular attention to how we can strengthen the international response to the needs of IDPs and that UNHCR continues to have a vital role to play in this respect as lead of the Global Protection Cluster.
The protection of civilians in Syria remains a key concern and due to the rapidly changing context and shifting lines presents a huge challenge to all the Agencies involved. We strongly encourage UNHCR to continue to champion the whole of Syria Protection Strategy and approach and ask them to further expand their protection activities, particularly for those isolated near the Turkish and Jordanian borders. As the note makes clear, there are many other contexts, in Africa, the Middle East and elsewhere – where the need to focus on protection is also paramount.
We consider that the international meetings this year - the London Conference supporting Syria and the Region, the World Humanitarian Summit, the IOM Special Council, the UNGA High Level Event on Large Movements of Migrants and Refugees and the US Summit on Refugees, offer a critical opportunity to bring the global response in line with the scale of the challenge. We look forward to the UNGA event making a strong political declaration, and agreeing a new Refugee Compact that reinforces the 1951 Refugee Convention, reinforces our collective responsibilities and the need for responsibility sharing by all countries. This should include a renewed commitment to pursue outcomes that do not blur the lines of existing international law, or the difference between arrangements for migrants and for the protection of refugees.
Mr Chairman, we welcome the paper's emphasis on increased global responsibility sharing and support to those hosting refugees. UNHCR has long been a champion of refugee rights and protection, and we feel this has never been more a more important part of its mandate and advocacy role than it is today.
We commend the work of UNHCR on behalf of refugees and IDPs and welcome its continued focus on this vital area.
Published 21 June 2016