World news story
UK Statement on the Maldives, 22nd Session of the Universal Periodic Review, Geneva, 4 to 15 May 2015
The UK delivers its statement on the Universal Periodic Review of the Maldives, 6 May 2015.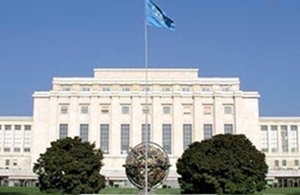 Thank you.
We welcome the delegation.
We welcome progress on legislation covering domestic violence and torture. While the new penal code is a step forward it requires implementation and concerns remain over provision for the death penalty and corporal punishment.
We recommend that the government:
Ensure the administration of justice is fully consistent with international human rights standards and to seek international technical assistance.

Take urgent action to protect human rights defenders, NGOs and journalists, and to investigate and prosecute all who threaten them.
Recent changes have weakened the judicial system threatening the impartial administration of justice and judicial independence. The judicial system must meet international standards and protect the rights of all Maldivians. Serious due process concerns were evident in the trials of former President Nasheed, Mohamed Nazim and others.
We are concerned by the arrest of further opposition leaders in response to the political protests on 1 May. Following last week's violence we urge restraint and dialogue by all parties and the government.
Thank you
Published 6 May 2015