World news story
UK Statement on the Democratic Republic of Sao Tome and Principe at the 23rd Session of the Universal Periodic Review, Geneva, 2 to 13 November 2015
The UK delivers its statement on the Universal Periodic Review of the Democratic Republic of Sao Tome and Principe, 11 November 2015.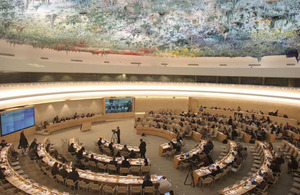 Thank you Mr President,
The United Kingdom acknowledges the challenges small island developing states face to engage with the UPR process and we welcome and appreciate the presence of the delegation here today.
The UK recognises the significant challenges São Tomé and Príncipe faces to tackle poverty, corruption, and a low educational attainment rate. We welcome the Government's significant efforts on education, gender parity and health but recognise improvements are still needed, including on prison conditions.
The UK notes that the São Tomé and Príncipe constitution protects the freedoms of expression and association and provides for the equality of all citizens regardless of race, gender and religion. The UK notes that São Tomé and Príncipe is also a signatory to a number of international and regional instruments for the protection of human rights and encourages the Government to take steps toward their ratification.
We recommend the government:
Ratify and fully implement the Convention Against Torture and its Optional Protocol, and the Optional Protocol to the Convention on the Elimination of Discrimination Against Women.

Take urgent steps to reduce and eliminate domestic and sexual violence against women, including measures to raise awareness of women's legal rights in consultation with civil society groups, and ensuring fair and expeditious trials of domestic and sexual violence cases.
Published 20 November 2015