World news story
UK Statement on Swaziland at the 25th Session of the Universal Periodic Review, Geneva, 2 - 13 May 2016
From:

Part of:

Published:

10 May 2016
The UK delivers its statement on the Universal Periodic Review of Swaziland, 10 May 2016.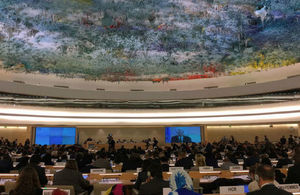 Thank you, Mr President,
The UK welcomes Swaziland's engagement with the UPR, and the concrete measures as set out in its own national plan.
Whilst the tentative steps made by the Swazi Government to amend the Suppression of Terrorism Act 2008 are positive, the United Kingdom encourages the Swazi Government to continue to engage with civil society on the proposed amendments. More broadly, the UK encourages it to maintain progress to ensure that Act and all other legislation is compatible with Swaziland's constitution.
The United Kingdom firmly believes in the importance of freedom of association and assembly, to that end we encourage the Swazi Government to ensure that those rights are properly protected as it has committed to previously.
We are concerned that the Swazi legal system does not yet meet the requirements of the UN Basic Principles on the independence of the Judiciary and encourage the Government to make amendments to legislation and ensure that those principles are adhered to.
Finally we remain concerned that legislation and customary practice in Swaziland prevents women from achieving their potential and limits the role they play in society. We encourage Swaziland to address these concerns through appropriate legisliation.
We have two recommendations:
That the Swazi Government take urgent steps to bring the Suppression of Terrorism Act 2008 in line with the Constitution.

That Swazi legislation to protect equality of rights for women is enacted, in line with the Convention on the Elimination of All Forms of Discrimination Against Women.
Thank you, Mr President.