World news story
UK Statement on St Vincent and the Grenadines at the 25th Session of the Universal Periodic Review, Geneva, 2 - 13 May 2016
The UK delivers its statement on the Universal Periodic Review of St Vincent and the Grenadines, 2 May 2016.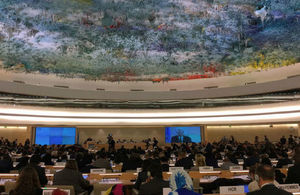 Thank you Mr President,
The UK welcomes the St Vincent and the Grenadines delegation. We thank the delegation for their responses to our advance questions and welcome their engagement with the UPR process.
We acknowledge the Government's commitment to human rights and the progress it has made despite the challenges small island developing states face to implement their international human rights obligations.
We welcome the adoption of the new Domestic Violence Act and in that regard the reinforcement of the Government's efforts in addressing the problems of child abuse, particularly the introduction of the National Child Abuse Register which is an indication of an effective, coordinated approach to tackling the issue. We encourage the Government to continue its work on violence, particularly to improve data collection and develop a corresponding legislative and administrative framework.
We encourage the Government to develop an effective response to juvenile offending to ensure that its laws, policies and practices are in compliance with its obligations under The Convention on the Rights of the Child.
We believe clear guidelines and policies for the respect for the Rule of Law are vital in preventing abuse of power by law enforcement agencies and encourage the Government to take concrete steps to build public confidence in the justice and security sectors.
We have two recommendations:
Implement comprehensive guidelines under the Domestic Violence Act to ensure a coordinated response for victims of violence by police, courts, health and social welfare agencies.

Establish a Juvenile Rehabilitation Centre to ensure detention separate from adults and the safety of juvenile offenders whilst in detention and to equip them to be productive citizens on release into society.
Thank you Mr President.
Published 2 May 2016