World news story
UK Statement on Nauru at the 23rd Session of the Universal Periodic Review, Geneva, 2 to 13 November 2015
The UK delivers its statement on the Universal Periodic Review of Nauru, 3 November 2015.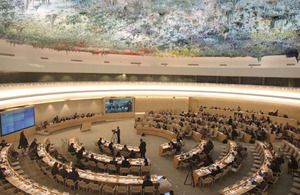 Thank you, Mr President,
The UK welcomes progress on human rights protection in Nauru since its last UPR, notably in terms of ratifying the Convention against Torture and its Optional Protocol, and other international human rights instruments.  We also welcome positive steps made on protection and promotion of the human rights of women and children, and to integrate refugees within the community.
We hope that opposition MPs currently suspended from Parliament will return to their duties soon, in order to ensure full representation of their constituents and appropriate scrutiny of the executive.  
We note with concern  Nauru's restrictions on the use of social media, which limit citizens' rights to freedoms of expression and of association.  We are concerned that changes to the criminal code will inhibit political dialogue.  In the interests of transparency, we suggest that Nauru reduce visa fees charged to visiting journalists to align them more closely with other categories.
Noting the critical importance of an independent judiciary, we hope  the Government of Nauru will ensure that defendants are able to choose their own counsel.  Recognising the challenge of violence against women and children, we trust that law enforcement resources will be directed towards investigating and prosecuting these crimes.  
We have two recommendations:
Introduce measures to ensure judicial independence, including through the establishment of an independent regulatory commission or body to oversee appointment and removal of members of judiciary.
Ratify the ICCPR.
Thank you Mr President.
Published 20 November 2015