World news story
UK Statement on Namibia at the 24th Session of the Universal Periodic Review, Geneva, 18 to 29 January 2016.
The UK delivers its statement on the Universal Periodic Review of Namibia, 18 January 2016.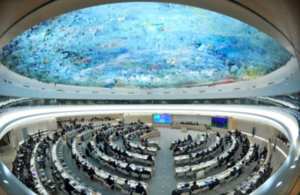 Thank you Mr President.
We warmly welcome the Namibian delegation and congratulate them on their UPR.
We have two recommendations for Namibia:
Ensure appropriate protection is offered to the victims of Gender-Based Violence, including enabling them to seek police assistance, leading to prosecution of the perpetrators as appropriate.

Ensure all juvenile offenders are housed separately from adult prisoners in Correctional Facilities.
We welcome Namibia's efforts to eliminate Gender-based violence (GBV) but note the continued high prevalence of violence against women. We continue to be concerned by customary practices that impede the promotion of gender equality.
The United Kingdom notes that same-sex relationships are still illegal under Namibian law. We would encourage Namibia to repeal such laws to remove discrimination against Lesbian, Gay, Bisexual or Transgender individuals.
Thank you Mr President.
Published 18 January 2016