UK Statement on Mauritania at the 23rd Session of the Universal Periodic Review, Geneva, 2 to 13 November 2015
The UK delivers its statement on the Universal Periodic Review of Mauritania, 3 November 2015.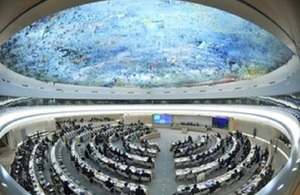 Thank you Mr President,
The UK recommends that the Government of Mauritania:
Takes action to identify and release people in slavery, support victims and end discrimination, in particular discrimination based on caste or ethnicity. As part of this the Government should formally acknowledge the continued existence of slavery; and begin to collect detailed data on the number of people held in slavery to facilitate monitoring of eradication efforts under the 2007 anti-slavery law;

Develops a National Action Plan to prevent and criminalise acts of sexual and gender based violence, including Female Genital Mutilation (FGM) and sexual offences against children.
We recognise progress since the last review, including the Government's favourable response to visit requests from special procedures of the Human Rights Council, accommodation of missions by the National Human Rights Commission to places of detention during 2014 and implementation of recommendations on prison overcrowding and remanded prisoners.
We are pleased that Mauritania opened its borders to Malians displaced by violence that erupted in northern Mali in January 2012. We are however concerned about gender–discriminatory provisions and legal obstacles to birth registration of Mauritania-born children of refugees and asylum-seekers.
Published 3 November 2015