World news story
UK Statement on Iraq, Human Rights Council, 28th session, Geneva
The UK delivers a statement on the adoption of the Universal Periodic Review of Iraq, 19 March 2015.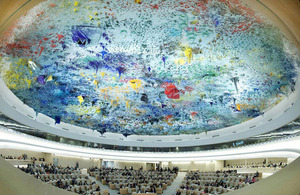 Thank you Mr President.
The UK thanks the Government of Iraq for its participation in the UPR process and we welcome their acceptance of 175 recommendations.
We reiterate the importance of respecting all human rights and welcome the commitment which Prime Minister al-Abadi's has made to inclusivity, protecting Iraqi citizens, and holding those responsible for human rights violations and abuses to account. It is vital that this commitment is now translated into action.
Recently we have received concerning reports of Shia militia and Iraqi Security Forces committing human rights abuses and violations against civilians. We, therefore, urge Iraq to accept the UK's recommendation that the Government of Iraq ensures the equitable treatment of all people through an improved justice system and increased respect for human rights within the police and security forces and that they ratify OPCAT.
We also strongly encourage the government to reconsider our second recommendation to establish a moratorium on executions and moves towards abolishing the death penalty. We consider that its use undermines human dignity, that there is no conclusive evidence of its deterrent value, and that any miscarriage of justice leading to its imposition is irreversible and irreparable.
Thank you, Mr President.
Published 20 March 2015