World news story
UK Statement on Greece at the 25th Session of the Universal Periodic Review, Geneva, 2 - 13 May 2016
The UK delivers its statement on the Universal Periodic Review of Greece, 3 May 2016.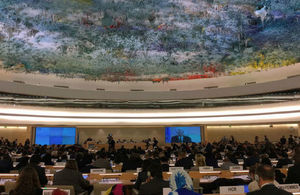 Thank you, Mr President,
The UK commends Greece for its efforts to support human rights across the globe, including within the UN multilateral system.
The UK has two recommendations:
That Greece continues to reform its domestic child protection system in order to end institutional residential care and move towards a community-based care model;

That Greece takes measures to improve the monitoring, identification and care conditions of unaccompanied minors who arrive in the country.
The UK welcomes the positive steps taken by Greece to implement the recommendations from its last UPR, including the establishment of the National Action Plan on Human Rights and the ratification of OPCAT.
We note Greece's significant efforts in dealing with the humanitarian consequences of the unprecedented migratory flows Europe is experiencing. The UK is committed to continuing to support Greece in dealing with these issues.
The UK welcomes Greece's recognition of same-sex unions with the passage of the cohabitation agreement bill in December 2015 and notes the effective cooperation of the Greek authorities with NGOs and civil society organisations on this and other issues.
Thank you.
Published 3 May 2016