World news story
UK Statement on Egypt, 28th session of the HRC, Geneva
The UK delivers a statement on the adoption of the Universal Periodic Review of Egypt, Geneva, 20 March 2015.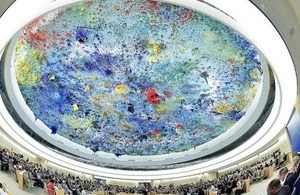 We are encouraged by Egypt's acceptance of our recommendations from its recent Universal Periodic Review at the UN. Engagement with the UPR process is a positive signal of the Egyptian Government's approach to human rights. The UK's recommendations focussed on women's rights and the protections for civil society to operate freely.
We welcome President el-Sisi's personal commitment to women's rights and to safeguarding the rights contained in the Egyptian constitution. We look to President el-Sisi to take steps to implement the rights contained in the constitution by protecting the rights of women, as well as the freedoms of expression and association.
Looking forward, it is vital that the recommendations that the Egyptian Government have accepted are implemented in a timely manner. The UK Government supports the Egyptian people's aspiration to a full and functioning democracy in all its aspects, including an independent judiciary, a vibrant civil society and a free media.
Published 20 March 2015