World news story
UK statement in support of the resolution on Aleppo delivered at the Human Rights Council special session on Syria in Geneva
Delivered by Ambassador Julian Braithwaite on 21 October 2016.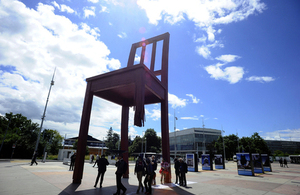 Mr Vice President,
The UK presents this special session resolution on the deteriorating situation of human rights in Syria, and the recent situation in Aleppo on behalf of a group of states: France, Germany, Italy, Jordan, Kuwait, Morocco, Qatar, Saudi Arabia, Turkey, the United Kingdom and the United States.
It brings me no pleasure to introduce this resolution. I, along with the vast majority of this Council, wish that recent developments on the ground in Aleppo did not warrant this exceptional and urgent consideration by the Council - but sadly, they do.
We are all aware of the huge surge in the number and intensity of indiscriminate aerial attacks on civilian targets in the city of Aleppo since the 19th of September. Hundreds have been killed in the cynical targeting of those opposed to the Asad regime.
It is this Asad regime, and its principal ally, Russia, that have carried out these attacks. Hundreds of people are known to have been killed, as this once great city is demolished from the air. As the UN Secretary General said only yesterday: "The conflict continues to reach new and awful depths."
You will hear today claims that this resolution is unbalanced, and that it doesn't reflect "the real" situation on the ground. We will be asked to consider amendments designed to distract and divert attention, and to dilute the purpose of this resolution. And we will be told that the threat from terrorism in Syria warrants this brutal campaign of terror from the skies.
None of this is true: this is a balanced resolution, recalling the legal obligations of all parties to the conflict. It follows open and transparent engagement with Human Rights Council partners.
Finally, we will also be told that the unilateral "humanitarian" efforts of one state – Russian Federation -should be celebrated in this text. However, as our oral revision of the text makes clear, the greatest humanitarian gesture that Russia could possibly make would be to support the immediate and sustained implementation of a cessation of hostilities. Were that to happen, we would welcome it wholeheartedly.
I call upon Human Rights Council members to vote yes on this resolution, and to vote no on the hostile amendments that have been tabled.
Thank you, Mr Vice President.
Published 21 October 2016