UK statement by Foreign Office Minister Mark Simmonds to the Sahel Ministerial Summit
"We need to unite to develop effective international action to help the Malian Government restore territorial integrity, democratic legitimacy and national security."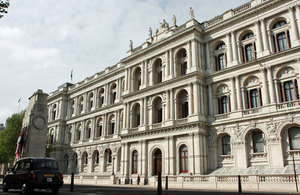 Thank you Mr Chairman,
I am grateful to the Secretary-General for convening this important meeting.
In Somalia, Afghanistan and Yemen we have seen how lack of governance can foster criminality, allow poverty to go unchecked and to breed terrorism.
Northern Mali today is the world's newest ungoverned space. It poses a threat to our domestic security, as well as to the development to Malian people.
We need to unite to develop effective international action to help the Malian Government restore territorial integrity, democratic legitimacy and national security.
Mali has long been an example of democracy and stability in a troubled region. But a historical north-south divide, ethnic and racial tension, Tuareg grievances, and a lack of political leadership have destabilised the country from within.
Following the coup d'etat in March, certain Tuareg groups have forged closer alliances with Al-Qa'ida in the Islamic Maghreb. Combined with a food crisis and the displacement of hundreds of thousands of citizens this has created a toxic mix of development and security challenges which we can no longer ignore.
If we do not act, we will see the continuation of poverty, hunger, human rights abuses and the destruction of the region's cultural and religious heritage. At the same time Al-Qa'ida in the Islamic Maghreb is growing both in ability and ambition. If we do not act, there is the very real threat of further attacks not only in Mali but also in Africa and further afield.
A solution must be led by Mali itself, supported by its neighbours and regional organisations, especially the African Union and ECOWAS. Action must address both the immediate threat from terrorism and also build long term resilience.
First, we must support the Government of National Unity in restoring democracy and the rule of law to Mali. There must be free and fair elections that include as many northern Malians as possible, and that preparations take place as soon as possible.
Second, we must help Mali restore security throughout its territory. We will continue to support the efforts of ECOWAS to reinforce Mali's military capability and Mali's neighbours, both north and south, have a role to play.
The international community must also help reduce the space for terrorist organisations to operate. At the very least, we must cut off their funding by stopping the payment of ransoms and impose sanctions on known terrorists to limit their ability to travel and to build regional connections.
Third, we must encourage political dialogue with those in northern Mali who may be convinced to reject violence and join the democratic process. A sustainable political settlement that recognises long-standing grievances and democratic marginalization is critical to long-term stability.
Finally, we must build greater capacity in Mali and the region to address the underlying problems that stem from poverty and a lack of economic opportunity, weak governance and the presence of criminal and terrorist organisations.
Mr Deputy Secretary-General, others have great experience of working in Mali and the Sahel region than the United Kingdom. We are committed to supporting their leadership and their efforts. But we have already been active.
We were one of the first donors to respond to the humanitarian crisis, with a total of £25.4 million in humanitarian support. Across the region, UK aid will help more than 1.6 million men, women and children.
I am also pleased to announce that the Prime Minister has recently appointed Stephen O'Brien as the UK's new Special Representative for the Sahel. Stephen O'Brien has already begun to inject new urgency into our efforts and to bring added coherence to our work.
The UK will continue to support the EU Strategy for Security and Development in the Sahel, particularly through Common Security and Defence Policy activities and other measures to improve rule of law, governance and economic opportunity.
We also have expertise in helping countries to cope with food insecurity and build towards a more stable future. We will also provide advice to ECOWAS as it plans its support for the Government of Mali.
This meeting will help us move forward on these four key priorities.
The United Nations has a critical role to play in coordinating the different areas of activity. Mali, ECOWAS, the African Union, other regional organisations and the wider international community must work as one.
The UK looks forward to the UN new Integrated Strategy. We hope that it will be able to draw together all the individual strands of activity and provide much-needed expression overall ambitions.
Mr Chairman, the UK is committed to playing an active part in the Security Council and support the efforts of the Malian Government, of the African Union and ECOWAS and international partners.
I urge the General Assembly to remain actively seized of this matter and we are committed to a brighter future for the Malian region.
Published 26 September 2012