World news story
UK Statement at WHO Programme, Budget and Administration Committee (PBAC)
Statement delivered on 19 January 2016.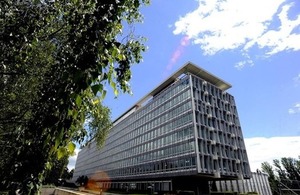 Thank you for this paper and we note, with concern, the current funding situation.
The IEOAC has highlighted that WHO's dependence on voluntary funding, with a continuing reliance on a small donor base, makes the Organisation vulnerable to funding changes.
The UK shares this concern and supports the IEOAC's call for WHO to do scenario planning, so we are better able to prepare for potential shortfalls in funding. The importance of WHO consistently making the case for investment is clear.
The UK continues to believe in the importance of zero budget growth across the UN family as a means to drive reform. We will continue to drive efficiency, transparency and delivery at all levels of the WHO.
We received the DG's proposal for an increase in the assessed contribution; I can confirm now that the UK will support this increase on this occasion.
We are clear this does not represent a change in our overall policy across UN agencies and does not set a precedent for future occasions or other organisations.
This support is in recognition of the recent significant changes we have called on WHO to undertake, particularly around health emergencies, and the importance we place on WHO being enabled to fulfill its global health leadership role.
The UK has agreed a new core voluntary contribution to WHO for the 2016-20 period. As part of this process the UK and WHO agreed challenging but deliverable reform objectives. This new agreement gives us further confidence that increased assessed contributions will be effectively spent for maximum country-level impact.
The UK's support for an increase in assessed contribution comes with the expectation that WHO will continue its important reform processes and actively reprioritise work to ensure it is delivering on its core mandate. It also comes with the guarantee that the UK will continue to scrutinise all money paid to WHO to ensure value for money for our taxpayers, and the global community.
But we are clear that WHO does require flexible funds to support its core work. We urge other Member States to back the organisation and agree the increase in assessed contributions.
Published 19 January 2017