World news story
UK statement at the Human Rights Council Special Session on South Sudan
Statement delivered on 14 December 2016.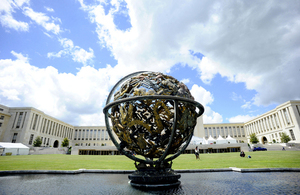 We meet today on the eve of the third anniversary of a conflict that has blighted South Sudan, a country that is just five years old. We meet today because, despite the vast amounts of aid the international community has donated to the people of South Sudan, despite a peace agreement and the formation of a transitional government - which gave us all hope for a brighter future - the country has instead descended into further violence.
We are appalled by the scale and horrendous nature of human rights abuses and violations, in particular gang rapes of women and girls used as a weapon of war, by the closing down of political space by the governing authorities and the increase in hate speech that fans the flames of the conflict.
The UN Special Adviser on the Prevention of Genocide has again today highlighted his concern at the increase in hate speech and crimes targeted against ethnic groups. He has again stated that there is a strong risk of violence escalating in South Sudan along ethnic lines, with the potential for genocide. When the person designated by the world rings the alarm, the world has a duty to act The Human Rights Council has a duty to act.
All sides must immediately stop military operations. This will ease the suffering on the South Sudanese people and create the space for dialogue. We urge the Government to ensure a national dialogue that is genuinely inclusive and in the interests of all the people of South Sudan.
South Sudan now has over one million refugees in neighbouring countries; three million internally displaced people and 40% of the population do not have enough to eat. And yet during the past weeks, we hear of the expulsion from the country of staff from three international NGOs. Aid workers have been targeted, and raped.
This is unacceptable. We call on the Government of South Sudan to allow NGOs to go about their important life saving work unhindered. We also urge them in the strongest terms to allow the UN Mission to fulfil its mandate and to do all it can to facilitate deployment of the Regional Protection Force, which is now essential.
The human rights of the people of South Sudan must be respected. Impunity cannot be tolerated in the name of a peace process that has not delivered peace, and we urge the African Union to speed up the establishment of the Hybrid Court.
Published 14 December 2016