World news story
UK Statement at the Human Rights Council during the full-day discussion on the human rights of women
The UK delivered a statement at the HRC during a panel discussion focussed on eliminating and preventing domestic violence against women and girls, 19 June 2015.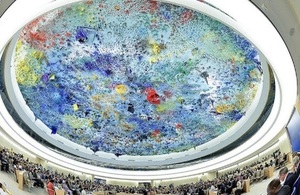 Thank you Mr President,
Tackling all forms of violence against women and girls is a top priority for the UK.
All forms of violence against women and girls – from the most prevalent to the most hidden which can often manifest in the domestic sphere – are unacceptable and must be addressed. This includes intimate partner violence, sexual violence and harmful practices such as Female Genital Mutilation and child, early and forced marriage.
It is therefore crucial that we take advantage of every opportunity to learn from each other and from what evidence we have on how to eliminate violence against women and girls. As such, the UK is investing £25 million in a research and innovation fund which will create ground-breaking new evidence on what works to prevent violence.
Mr President,
I would also like to take this opportunity to reaffirm our commitment to building on the achievements made so far through the Preventing Sexual Violence Initiative and we are delighted that Baroness Anelay has been appointed by the Prime Minister as a new Special Representative for Preventing Sexual Violence.
We now need to do more to support conflict affected states to enable them to prevent and respond effectively to sexual violence in conflict. We therefore call on the international community to continue to work on the political and practical barriers which perpetuate a culture of impunity and in particular to fully implement the Declaration of Commitment to End Sexual Violence in Conflict.
Women and girls are often disproportionately affected by conflict and natural disasters and we would therefore encourage states and donors to demonstrate their commitment to addressing violence against women and girls, including in humanitarian emergencies, by endorsing the Call to Action to Protect Women and Girls in Emergencies communiqué.
Finally, the UK firmly supports targets in the Sustainable Development Goals on ending all forms of violence against women and girls including tackling domestic violence, and ending all harmful practices. We hope that many other states will similarly lend their voices and support.
Thank you Mr President.
Published 19 June 2015