World news story
UK statement at the 50th anniversary celebration of ICERD - the International Convention on the Elimination of All Forms of Racial Discrimination
The UK joins in celebrating the 50th anniversary of the adoption of ICERD, Geneva, 26 November 2015. Effective implementation of ICERD will continue to be a priority for the UK in the fight against racism.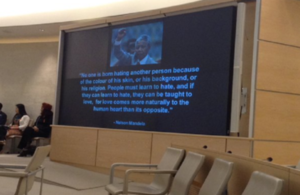 Today's anniversary reminds us that we must act more decisively to combat racism, racial discrimination and related intolerance.
The International Convention remains key to all efforts to prevent and eradicate racism. This will continue to be a priority for the UK. Effective implementation of ICERD should be our priority in the fight against racism, rather than the elaboration of further 'complementary standards'. Continued engagement with international mechanisms, especially the Committee and the Special Rapporteur, is also essential and we call on all states to draw on the expertise available to assist them.
It is unfortunate that, notwithstanding some positive steps, intolerance and discrimination continues in all parts of the world. We call on governments to take more decisive actions to fully implement their human rights obligations and address the ignorance that underlies such behaviour and attitudes.
For the UK's part, we have a strong legislative framework to protect communities from hostility and violence and we keep it under review to ensure that it remains effective and appropriate in the face of new and emerging threats. This includes separate racially and religiously aggravated offences, which carry a higher maximum penalty.
We are proud of our legislation, but we know that on its own it is not enough. The Prime Minister has therefore set ambitious goals to improve opportunity for black and ethnic minority people in the UK. We aim to achieve a 20% increase in ethnic minority people in employment and 20% more ethnic minority people going to university by 2020. We are seeking similar improvements in apprenticeships and recruitment in the police and the armed services. These are challenging targets, but we are determined to do all we can to meet them. We are also making further efforts to improve the reporting of hate crimes, to increase support for victims, and to challenge the attitudes that lead to hate crime in the first place.
The problem of prejudice, intolerance and discrimination affects all of our societies and therefore we should continue to work together as states to exchange views, share best practice and ensure that equality and non-discrimination are advanced through the multilateral system and bilaterally.
In concluding, the UK calls on all States to stand together against intolerance in all its forms and to seek a world in which everyone has equal protection of their rights, equal access to justice, education and economic opportunities regardless of ethnicity, nationality, colour or race.
Thank you.
Published 26 November 2015