World news story
UK Statement at 4th Global Review of Aid for Trade in Geneva, 8 to 10 July 2013
During this week's World Trade Organisation's Global Review of Aid for Trade, the UK made a strong plea for concluding the Trade Facilitation Agreement.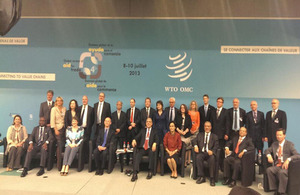 Thank you Madam Chair. I would like to begin by associating the UK with the statement made by the EU on the importance of securing an agreement at the 9th WTO Ministerial Conference in December, centred on trade facilitation.
The focus of the Fourth Global Aid for Trade Review on connecting to global value chains was very apt. The review has provided an excellent opportunity to talk to and hear from a broad range of stakeholders and take stock of the progress that has been made during the two years since the last Review.
The UK spends 1.4 billion dollars annually on aid for trade and we were very pleased to join others on Monday in reconfirming our strong commitment to assistance for trade facilitation. We are encouraged by the evidence we have heard this week of the effectiveness of aid for trade and the real difference it is making to the ability of developing countries to trade. Demonstrating that we are delivering real results is also essential if we are to be able to make the case at home for spending public money in this way in a tough fiscal climate.
There is, of course, always more that we can do to make aid for trade effective and deliver results. Most importantly, we need to ensure that our aid for trade keeps pace with a rapidly changing context and, particularly, that we are actively helping poor countries to tackle the binding constraints they face in breaking into regional and global value chains; and in moving up the value chain.
The strong engagement from business during the Review has been particularly striking. We have heard business representatives from all parts of Africa, from India, from Bangladesh, from Nepal, from Latin America - all speaking frankly and openly about the challenges they face as traders and investors. This has enriched our discussions enormously. It is very clear that for businesses, Trade Facilitation is not an abstract concept - it is about the day to day reality of doing business across borders. The obstacles faced by business have a real impact on trade, growth, jobs and incomes. It was heartening also to hear businesses talk of the opportunities they see and to sense their clear willingness to work in partnership to help poor countries to trade more.
There is a great opportunity here. We need to work hard to harness this energy and to build on the sense of urgency we get from our engagement with business as negotiations continue in the months leading up to the 9th Ministerial Conference in Bali.
Finally, the UK would like to echo the many personal tributes that have been paid here today to the outgoing Director General, Pascal Lamy, for his tireless efforts to promote effective aid for trade. I would also like to congratulate the WTO and OECD Aid for Trade team who have worked so hard over recent months to prepare for what has been a very successful - and value-adding - event.
Thank you Madam Chair
Statement delivered by:
Eamon Cassidy Deputy Director Trade Policy Unit Department for International Development & Department for Business, Innovation and Skills
Published 12 July 2013