World news story
UK Special Representative for Sudan and South Sudan makes his first visit to Khartoum
Mr Christopher Trott made his first visit to Khartoum from 19 to 21 September to reaffirm UK's commitment to support peace and economic development in Sudan.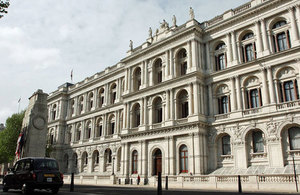 Making his first visit to Khartoum this week, the UK Special Representative for Sudan and South Sudan, Mr Christopher Trott, affirmed the United Kingdom's commitment to supporting peace, stability, economic development and human rights in Sudan.
Coming very soon after his appointment in August, Mr Trott's visit aimed to strengthen relations between Sudan and the UK, continue the Strategic Dialogue on issues of mutual interest, and uphold UK support for the African Union-led peace process. Over three days, Mr Trott met with representatives from the government, the opposition and from civil society organisations.
Reflecting on his visit, Mr Trott said:
I am optimistic about UK-Sudan relations. This relationship is unique for its long history and we look forward to strengthening it for the benefit of the Sudanese and the British people.

During my visit, I met with Presidential Assistant Mr Ibrahim Mahmoud and a number of other Government officials for a wide-ranging dialogue including regional security and the positive role that Sudan can play for peace within South Sudan and between the two countries. I also sat with the Sudan Call representatives to discuss the next phase after the signing of the African Union Roadmap. With both Government and opposition interlocutors, I emphasised the opportunity provided by the African Union-led peace process. I encouraged all parties to demonstrate the necessary flexibility to reach agreement on cessation of hostilities and humanitarian access in the Two Areas and Darfur, leading to permanent ceasefires and an inclusive national dialogue.

In addition to very informative discussions with the representatives of the international community based in Sudan, I also had the opportunity to speak with activists from different non-governmental organisations as the UK pays special attention to civil society; we strongly believe in its vital role in contributing to achieving a stable and secure society.
Commenting on the visit, British Ambassador Michael Aron said:
This is the third visit by a senior British official since the start of the Strategic Dialogue in March. The visit of a high-level Sudanese delegation to the UK next month, led by the Ministry of Foreign Affairs Undersecretary Abdelghani Alnaeim, will be a continuation of this enhanced bilateral engagement.
Document information
Published: 27 September 2016