World news story
UK Special Representative for Climate Change visiting Taiwan
Sir David King, UK Special Representative for Climate Change, is visiting Taiwan on 21-22 March 2017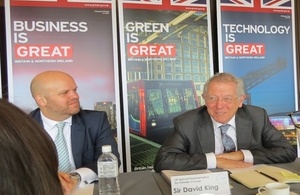 Sir David King, UK Special Representative for Climate Change, is visiting Taiwan on 21-22 March 2017 in his final overseas visit in the role he took up in September 2013. In his second visit to Taiwan this time, Sir David will share the UK's experience of the transition to a low carbon economy.
This morning, Sir David met with Vice President Chen Chien-jen to discuss Taiwan's plans for development of its energy sector and to promote closer UK Taiwan collaboration on energy technology. Sir David also discussed the UK's experience in offshore wind energy, where the UK has the world's largest installed capacity, and was joined by a large visiting UK wind energy delegation to promote the UK's unique commercial expertise in the sector.
Sir David also met with the Minister for Environmental Protection Administration, Lee Ying-Yuan, to discuss UK best practice in the implementation of greenhouse gas reduction targets. They discussed Taiwan's draft National Climate Action Guidelines and both sides expressed their hope that these would pave the way for Taiwan to meet the commitments set out in 2015 Greenhouse Gas Reduction and Management Act - to reduce emissions by 50% of the 2005 level by 2050.
In public engagements at National Taiwan University and at a special luncheon co-hosted organised by the British and European Chamber of Commerce, Sir David explained the action that the UK has taken to tackle climate change and highlighted the opportunities presented by the transition to a low carbon economy. Sir David King emphasised the falling cost of clean energy technologies and the role of the $30bn per annum Mission Innovation initiative, signed at the historic COP21 negotiations. Sir David went on to further explore the potential for deeper co-operation on clean energy in meetings with Professor Wu Kuang-Chong, CEO of the Phase II National Energy Programme.
Tomorrow Sir David King will visit Tainan, where he met with Mayor William Lai to learn more about the Mayor's plans to develop the green energy sector and also to share the UK's experience of developing a low carbon economy. Today the UK's green sector is worth over £46bn and directly supports more than 90,000 businesses. He will then meet with the Director General of the Shalun Green Energy Science City, Professor Huang Der-Ray and his team for a detailed presentation on the plans for development of the site.
Returning to Taipei in the afternoon, Sir David King will then give a lecture at the Research Centre for Environmental Changes at Academia Sinica and will give an overview of the science of climate change, including the risks that climate change presents while again stressing the opportunities that investment in green energy can create.
Sir David King said, "Today the global low carbon economy is estimated to be worth more than $5 trillion and over the next 15 years it is estimated that around $90 trillion will be invested in the world's energy systems, land use and urban infrastructure. My second visit to Taiwan is to strengthen the partnership between us on climate change and energy. We do so, not only because it is the right thing for our environment, but also because of the benefits that the transition to a low carbon economy will bring in laying the foundations for our future prosperity."