World news story
UK Special Representative for Climate Change visit to Taiwan
Sir David King, UK Special Representative for Climate Change, visited Taiwan on 24-25 February 2014 to share the UK's experience on the transition to a low carbon economy.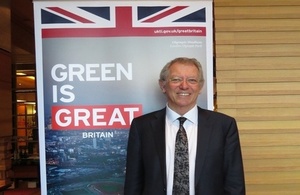 During this visit, Sir David met President Ma Ying-jeou to promote a sustainable energy policy, commercial energy prices and energy market liberalisation. He also met Dr. Shen Shih-hung, Minister of Environmental Protection Administration, to promote UK best practice policies on climate change. He also met business leaders to discuss their efforts to move towards a low carbon model.
On 24 February, he was invited to make a public lecture entitled "Climate Change and the Nexus of Water, Food and Energy" at the Academia Sinica, and said: "Climate change is the most severe problem that we are facing today, more serious even than the threat of terrorism. If we can move towards more indigenous sources of energy, then we are moving away from insecurities associated with imports. Facing this greatest challenge, we are working to reduce our carbon emissions to two tons per capita in the UK by 2050." He also explored the possibility of closer research links between the UK and Taiwan when he met with Dr. Wong Chi-huey, President of Academia Sincia.
The UK and Taiwan has extensive cooperation on energy and on climate issues, including renewable energy and eco-cities, etc. The Taiwan 2050 Calculator, developed in consultation with UK's Department of Energy & Climate Change (DECC) and launched in November 2013, currently provides an energy modelling tool for Taiwan public to discuss the pathways and energy option available to Taiwan.
In global terms energy demand is expected to increase by 34% by 2035. It is also expected that, by then, around US$1 trillion will be invested each year in energy infrastructure projects globally. The 2008 Climate Change Act made Britain the first country in the world to set legally binding "carbon budgets", aiming to cut UK emission by 34% by 2020 and at least 80% by 2050 through investment in energy efficiency and clean energy technologies.
This is the first visit to Taiwan for Sir David as UK Special Representative for Climate Change.
Further information:
Sir David King was appointed as Special Representative for Climate Change in September 2013. He was previously the Government's Chief Scientific Advisor from 2000 to 2007, during which time he raised awareness of the need for governments to act on climate change.
Published 25 February 2014