UK signs prisoner transfer agreement with Albania
Albanian prisoners can now be sent back to Albania to finish their prison sentences, following a new agreement signed by Prisons Minister Jeremy…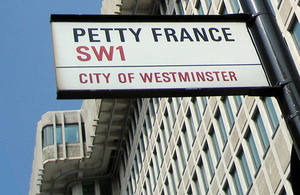 Albanian prisoners can now be sent back to Albania to finish their prison sentences, following a new agreement signed by Prisons Minister Jeremy Wright today.
The compulsory prisoner transfer agreement will allow the British government to transfer those eligible Albanian nationals in UK jails back to their home country to serve the rest of their sentences, freeing space in prisons here and reducing the cost to the British taxpayer of detaining Albanian criminals.
The United Kingdom currently holds almost 200 Albanian national prisoners and the Prison Service has already identified those who are eligible for transfer. All eligible cases have been referred to the UK Border Agency for deportation and we expect to see the first transfers later this year.
This is the UK's first major bilateral prisoner transfer agreement providing for compulsory transfer outside the European Union. Albania is a Council of Europe member state and is subject to regular prison inspections.
Prisons Minister Jeremy Wright said:
'I am delighted to have been able to co-sign this prisoner transfer agreement with my Albanian counterpart today. The co-operation of the Albanian authorities has been crucial in ensuring these negotiations have proved so fruitful.
'The British Government wants more foreign national prisoners to serve their sentences in their home country. We will continue to work with other governments to share best practice, improve standards and ultimately save the British taxpayer money.'
Notes to editors:
Albanian nationals constitute the sixteenth highest foreign national population in English and Welsh prisons. The Albanian offender population has increased steadily over the past decade - as of September 2012 there were 193 prisoners.
The value of the PTA is estimated to be around £2m in 2013/14 and £25m over the next 10 years.
The total foreign national population in England and Wales is 10,951.
For further information please contact the Ministry of Justice press office on 0203 334 3536.
Published 15 January 2013