World news story
UK - Sierra Leone relations marked at HM The Queen's birthday celebration
This was published under the 2010 to 2015 Conservative and Liberal Democrat coalition government
The annual Queen's Birthday Party celebrated at the British High Commissioner's residence in Freetown on Thursday 25 April, 2013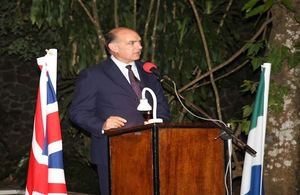 In his remarks the High Commissioner, Peter West, said:
"It's an exciting time to be in Sierra Leone. I look forward to the formal launch of the Government's Agenda for Prosperity. As this suggests, the next five years have the potential to be the most transformative in the country's history, providing an ambitious blueprint for growth. We agree on the importance of setting priorities and acting urgently to deliver timely success. The British Government will be working closely with all concerned to assist with the delivery of this national development plan, under a new wider framework of mutual accountability.
But the most important role of governments is to establish a framework for business which both supports the proper development of the national economy and is conducive to investor interest and confidence. We will continue to work closely in this area with the Government of Sierra Leone. And more widely the focus of Britain's bilateral cooperation will to ensure that we remain in step with Sierra Leone's progress and requirements."
The Minister of Defence, Paolo Conteh, responding on behalf of the Sierra Leone government in his capacity as acting Minister of Foreign Affairs, said:
"The UK, apart from historical reasons, remains our most important bilateral partner in our development strides. Let me take this opportunity to express our deepest appreciation to the United Kingdom for her singular role, among other members of the international community, in the transformation of IMATT to ISAT; and next year this time round, the expiration of UNIPSIL's mandate will lead to our removal from the United Nations Security Council agenda, paving the way for unencumbered progress.
We note with satisfaction the UK Government's intention to continue its support, through DfID, with the delivery of our development plan, under the new, wider framework of mutual accountability to be formally signed at the annual Presidential Development Partners Committee scheduled for June. We continue to rely on the United Kingdom to use its unique position in the European Union and the International Community at large to support us"
The QBP is an annual event which brings together all who work with the UK government in country. This event was partly sponsored by British Airways, Cluff Gold Sierra Leone, Sierra Rutile Ltd and Standard Chartered Bank.