World news story
UK shows support for Morocco's women in business
Leading Arab businesswomen congregated in London for a conference to promote the role of women in Arab economies.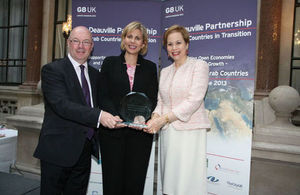 Leading Arab businesswomen, including a large delegation from Morocco, congregated in London on 25-26 June for a high-profile conference to promote the role of women in Arab economies. The conference was held under the auspices of the G8 Deauville Partnership with Arab Countries in Transition under the title "Supporting open economies, inclusive growth – women's role in Arab Countries".
At the end of the Conference, Nezha Hayat, from Morocco, was given an award for her "Outstanding contribution to financial and professional services".
Nezha Hayat said " I was honoured to be chosen for this award which recognises the role of the Moroccan woman in the fields of Banking and Finance in Morocco".
17 people represented Morocco at this event, including eight successful businesswomen, four representatives of women's NGOs and five government representatives. Delegation members came with very diverse profiles ranging from senior officials to a agricultural worker and included heads of big companies and SMEs from various sectors including banking, pharmacy, and agrofoods.
The Moroccan delegation was led by Bassima Hakkaoui, Moroccan Minister for Solidarity, Women, Family and social development. The event was hosted by British Ministers including Alistair Burt, Minister for North Africa at the FCO, and Justine Greening, Minister for International Development.
The aim of the two days conference was to look at ways of unlocking opportunities for Arab women in the business world and creating new business partnerships between G8 and Arab business women to achieve shared prosperity. Participants considered how the economic climate affects women's participation in the labour force and highlighted women's important contribution to economic growth. The conference also provided a valuable networking forum for Arab business women from across the Middle East.
The United Kingdom currently holds the Presidency of the G8 and Deauville Partnership, and is using its Presidency to try to increase the G8's practical support for the countries of the Middle East and North Africa, which are undergoing transition or political reform processes.
The next major event held under the UK's Presidency will be an investment conference in London in September 2013, which will give Moroccan government and industry a chance to showcase investment opportunities in Morocco and attract more foreign funding.
Published 25 July 2013