World news story
UK showcases expertise in PPP implementation in waste management
From:

Part of:

Published:

13 March 2014
This was published under the 2010 to 2015 Conservative and Liberal Democrat coalition government
Conference on waste disposal highlights opportunities in Greece and UK experience in developing an effective waste management market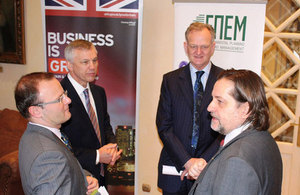 On 13 March 2014, EPEM and Grant Thornton in co-operation with the British Embassy organised a conference in Athens. This was to present the implementation of the largest Public Private Partnership (PPP) project in solid waste management in Europe, the integrated solid waste management of Greater Manchester.
The 4.2 billion pound project was presented by:
Mr Stephen Jenkinson, Chief Executive Officer of Viridor Laing Ltd, winning concessionaire of the PPP project
Mr John Bland, Secretary General of the contracting Greater Manchester Waste Disposal Authority
The event aimed to provide the Greek market with:
a successful example of the UK policy on waste management
an example of co-operation between public and private sectors
Concerns and proposals for improvement from all involved stakeholders were also discussed.
The British Ambassador John Kittmer opened the conference by presenting the background of the UK government's policy, which has resulted in a more effective waste management market.
In England, we have adopted a market-based approach, introducing a landfill tax, and encouraging waste to be managed in accordance with the so-called 'waste hierarchy', as set out in European law [… ]Today, the UK waste and recycling sector employs over 100,000 people and generates over 14.4 billion Euro a year in sales […] We hope that showing the Manchester experience at today's event will feed the Greek market with ideas. The point is simple: waste management is not only good for the environment and society as a whole; it can also be a sustainable business opportunity that brings together the Public and Private sectors in a mutually beneficial partnership.
The event was also addressed by Mr Nikos Matzoufas, Special Secretary for PPP and Mr Yiannis Boutaris, the Mayor of Thessaloniki.
Panel discussion
Following the above presentations, the audience had the opportunity for an open discussion with the panel of speakers.
During the second session, guests participated in two parallel interactive panels:
the first included representatives from public bodies involved in deployed PPPs in Greece, focused on the expectations of stakeholders and project management
the second panel included representatives from construction companies involved in PPP projects, who made recommendations for improvements to the current tender process, as well as on the critical issues of project funding
Solid waste management sector
The solid waste management sector is one which is believed could contribute greatly to the desired recovery of the Greek economy.
The private and public partnership process has been selected for most of the announced tenders for the new solid waste management projects. In total, 13 projects have been launched to date, relating to approximately 2.8 million tons of waste, with an initial investment cost that reaches 1billion Euros. Project implementation has just started, and at this stage, experiences that can be transferred from markets such as Great Britain, are invaluable.
Contacts
If you are a UK company wishing to explore the Greek market, showcase UK expertise in a particular sector or expand your business in Greece please contact:
Department for International Trade Greece
British Embassy
Ploutarchou 1
106 75
Greece