World news story
UK showcase at Biospain 2014
On Wednesday 24 September, UK experts on life sciences, cell therapy and agritechnology will speak about investment and R&D opportunities in the UK at Biospain2014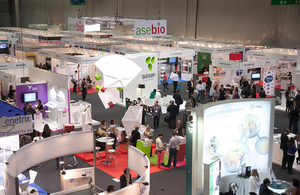 On Wednesday 24 September, UK experts on life sciences, cell therapy and agritechnology will speak about investment and R&D opportunities in the UK at Biospain2014, the major biotech conference in Spain and the second biggest in Europe. A UK showcase jointly organised by UK Trade and Investment (UKTI) and the Science and Innovation Network (SIN).
The UK life sciences industry is high-tech and innovative. The UK has a rich heritage of life science discovery that has transformed scientific knowledge and continues to unlock clinical and commercial opportunities. UK science is world-class, offering industry an opportunity to partner with globally recognised pioneers and innovators.
Simon Manley, British Ambassador to Spain, will open the session.
Showcase Speakers
Jill Dhell, Head of Life Sciences Strategy, UK Trade & Investment (UKTI) The UK – a New Strategy for the Life Science Sector
The UK government's strategy for life sciences was launched in 2011 to re-establish the UK as a global leader in Life Sciences. Jil Dhell will present investment opportunities for companies developing or delivering clinical solutions. The UK has a rich environment with world leading universities, the National Health Service that provides healthcare for 60 million patients, and a supportive business environment. UK Trade and Investment (UKTI) combines the expertise of professional trade and industry advisers to support companies through a global network of experts in the UK and overseas.
Johan Hyllner, Chief Scientific Officer, Cell Therapy Catapult Growing a Cell Therapy Industry: Opportunities and Challenges in an International Perspective
Cell-based therapies will play a vital role in the next generation of healthcare and there is a clear need to advance the technologies and products arising from the research base. In the UK, the major barriers for the growth of a cell therapy industry have been identified as being regulatory, business, manufacturing and supply chain related. To overcome these hurdles Innovate UK, a governmental agency, founded the Cell Therapy Catapult to provide a critical mass of expertise to bridge the translational gap from bench to bedside and address the issues described above.
Kezia Williamson, Knowledge Transfer & Project Manager, Knowledge Transfer Network (KTN) Facilitating Animal Health R&D - a UK perspective
The UK Government has named Agri-Science as one of the eight great technologies in which the UK is set to become a global leader. The recognition of the strength of the UK research and industry base, and the prioritisation of the sector means that there are significant opportunities for R&D. The Knowledge Transfer Network (KTN) is funded by UK Government to facilitate innovation and support commercialisation.
When: Wednesday 24 September 16:30 – 17:30
Where: UK showcase at Biospain 2014 First Floor – Room 12
For further information contact: Shona Brown shona.brown@fco.gov.uk
Sara Cebrian sara.cebrian@fco.gov.uk
Follow Us: @UKsandiEurope @UKTISpain, @ukinspain in #BioSpain2014
Published 19 September 2014