World news story
UK shares experience in good governance
This was published under the 2010 to 2015 Conservative and Liberal Democrat coalition government
UK expert speaks at international conference on good governance in Kyrgyzstan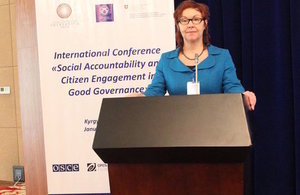 Aileen Walker, Director of Public Engagement in the Department of Information Services of the UK House of Commons visited Bishkek in late January. The main focus of her visit was the international conference on "Public Accountability of Government and Civic Participation in Good Governance", organised by the Roza Otunbaeva Foundation. The discussion focused on the structure of and legislative basis for the functioning of public advisory boards (PABs) and their cooperation with the State.
Ms Walker spoke about the importance of trust and transparency between the public and civil society on the one hand and state institutions on the other. She set out the various mechanisms, initiatives and laws in the UK which provide a framework for civil society to have oversight of the work of Government, and for individuals to access information about government policies which affect them. Ms. Walker drew on her own work, leading the UK Parliament's Education Service, Visitor Services, and an innovative Public Engagement Team. She is a member of the Study of Parliament Group and a council member of the Hansard Society, a not for profit organization that works to promote and strengthen democracy in the UK and abroad.
During her brief visit to Kyrgyzstan, Ms Walker also met parliamentarians to discuss with them how the UK parliament promotes transparency in its work and encourages public, particularly youth, engagement. She also met representatives of PABs to gain a better understanding of the Kyrgyz system, and experts from the OSCE, NDI and the British Westminster Foundation for Democracy and the UK/US funded Deepening Democracy Programme to learn more about their support to the development of transparency and democracy in Kyrgyzstan.
At the end of her visit, Ms Walker said that she was impressed by the openness of the dialogue between the Kyrgyz government and the civil society and encouraged both sides to continue the important task of promoting transparency and accountability in public institutions.
Document information
Published: 5 February 2014