World news story
UK Sentinel aircraft mission in Mali
British Ambassador HE John Marshall and Wing Commander Fin Monahan held a joint press conference on 7 May to talk about UK support to the French and African operations in Mali.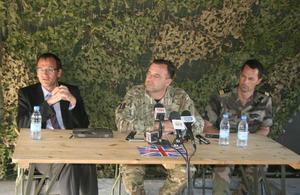 The threat from terrorist groups in Mali demands a response that is tough, intelligent, patient and based on strong international and regional partnerships. It is right that international assistance is given to support the Malian Government and Armed Forces and to support the African-led International Support Mission to Mali (AFISMA).
The SENTINEL R1, a surveillance aircraft with a support team of about 60 men and women has been based in Dakar since January. The operation has been aimed at supporting the efforts of the international community, led by France and African countries, to assist the Malian authorities in restoring peace and stability in Mali. The UK strongly supported French military intervention, which was made at the direct request of the Malian Government when terrorist groups advanced on Bamako in January and provided immediate logistical and surveillance capabilities to assist the military operations to halt the immediate threat from terrorism in Mali.
The UK has since contributed 40 personnel, civilian and military to the EU Training Mission which has started to train the Malian Armed Forces. The UK has also given an additional £5m to two UN Trust Funds which will support peace and security priorities in Mali. It is also active on the humanitarian front and is the second largest donor to the humanitarian appeal in Mali.
As a Permanent Member of the UN Security Council in New York the UK has been active in negotiations in New York to agree Resolution 2100, adopted under Chapter VII of the UN Charter, to establish a stabilisation mission for Mali. The UK calls on all stakeholders in Mali to implement the transitional roadmap leading to free, fair, transparent and inclusive elections as soon as possible, and will continue to support the essential process of bottom-up reconciliation that will be led by the National Commission on Dialogue and Reconciliation.
Published 16 May 2013