World news story
UK senior energy adviser visits Manila
UK Energy Adviser Angus Miller: "Neither are the Philippines nor the UK immune to the impact of the growing global competition for resources"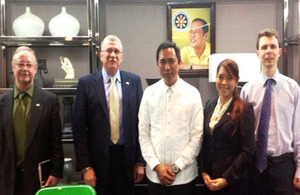 Angus Miller, a senior Energy Adviser at the Foreign & Commonwealth Office (FCO), was in Manila this week for a 3-day visit to meet key government officials and business leaders and discussed a range of energy issues in the Philippines and had a chance to explore future engagement and collaboration of the UK Government with energy players in the country.
On 9 July, Mr. Miller spoke at the 4th Philippine Energy Efficiency Forum organised by the European Chamber of Commerce Philippines (ECCP) and its partners at the SMX Convention Centre. He discussed energy efficiency and climate change, focusing on the UK's perspective on the global geopolitics of energy.
In his speech addressing the delegates of the forum, Mr. Miller said:
Neither are the Philippines nor the UK immune to the impact of the growing global competition for resources; especially fossil fuels where the large emerging market economies are estimated to account for 90% of demand growth to 2035. This trend therefore challenges both UK and Philippine energy security and the states' ability to tackle climate change…
The Philippines, like the UK and many other states, developed and developing, is at a crucial point in defining its energy infrastructure for the next 50 years. As part of this, energy efficiency must be integrated into all issues relating to demand side management if we are to optimise finite energy supplies.
We are at the crossroads. Decisions made now are critical to whether or not inclusive and equitable economic growth is possible. The choices we make will also determine future food, water and resource access, globally and locally. This will have enormous political and social impact but there is equally opportunity for nations to work together and help ensure the kind of future to which their citizens aspire.
As Caspian Energy Adviser at the FCO's Climate Change and Energy Group, Mr Miller's role was expanded in 2011 to include direct involvement in energy security and energy geopolitical issues in The Americas, Asian sub-continent, Far East and Asia Pacific as well as Central Asia. He has advised Ministers from the FCO and the Department of Energy & Climate Change (DECC) and their teams on international energy security issues relating to policy formulation and relationship building.
An economist by training and a graduate of the London School of Economics and Political Science, Mr Miller is a regular speaker at energy related events around the world. He is a member of the leadership team that established and managed the world's largest professional services and consulting practice devoted to energy and mining.
Published 11 July 2013