World news story
UK Secretary of State for Education visits OPTs
Secretary of State for Education, Michael Gove, visited the OPTs to boost educational links between UK and Palestinian academic institutions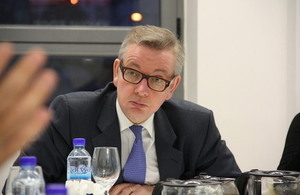 Education Secretary Michael Gove met Palestinian Authority Prime Minister Dr Rami Al Hamdallah, in which they explored new opportunities for further deepening bilateral educational relationships between the UK and the Occupied Palestinian territories. Gove reiterated the UK's strong support to build efficient and capable Palestinian state institutions, a thriving private sector, and a dynamic vibrant civil society through the UK's investment in the education of young Palestinians.
He also met a number of Palestinians who studied in the UK as part of the Chevening and HESPAL programmes. The scholars shared their experiences of studying in British universities, the opportunities the experience had given them, and their future aspirations. They also talked about the wider challenges facing the Palestinian education sector. Over the span of thirty years, the Chevening scholarship has allowed hundreds of young Palestinians to benefit from the education opportunities the UK offers. In addition, the British Council's HESPAL (Higher Education Scholarships for Palestinians) scholarship Scheme aims to create the next generation of senior academics who can maintain international quality standards at Palestinian universities and develop further sustainable links between Palestinian and UK universities.
At the end of his visit, Michael Gove held a round table with prominent Palestinian academics universities to discuss current issues within Palestinian higher education, and explore future opportunities to create deeper links between universities and research centres. For example, in January 2014, the British Council is organising a study tour visit for the Minister of Education and five senior Palestinian academics to acquaint them with UK's university-industry culture and the role research plays in strengthening knowledge based economies.
Following his meetings, Secretary of State for Education Michael Gove said:
"I was very impressed by the energy, intelligence, and resilience of Palestinian scholars and academics that I met today in Ramallah. The British and Palestinian people share a passion for learning and a strong belief in the power of education. I am very proud of our long and distinguished history in the UK as a leader in university education. I am more proud that we can offer education opportunities such as Chevening, which have the potential to change individuals' lives and create positive change. The young people I met today are central to the future success of the OPTs. Seeing talented young Palestinians who have great aspirations for their future, and the future of this place, gives me great hope for the future.
Our cooperation on education goes far beyond Chevening. Our partners at the British Council here are working collaboratively with the Palestinian Ministry of Education and Ministry of Higher education to train English language teachers, connect Palestinian and British classrooms, and bring tens of Palestinians scholars every year to study in the UK. Nonetheless, there remains room for ever stronger cooperation between the Palestinian and British people. That is why I am here today.'
Published 11 December 2013