World news story
UK Science & Innovation Network in USA Launches Transatlantic Cybersecurity Initiative
The Cambridge 2 Cambridge competition is the result of UK/US initiatives aiming to combat the risks of cyber-attacks.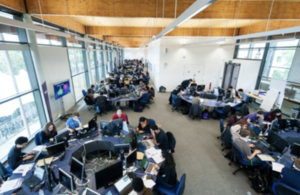 With cyber-attacks and data privacy becoming an increasingly important global challenge, many cybersecurity experts have called for more international collaboration in developing technologies to protect our data and systems. In 2016 President Barack Obama and British Prime Minister David Cameron therefore launched a series of US/UK initiatives aimed at harnessing the two nations' collective brainpower to combat global cyber-attacks. The UK Science & Innovation Network (SIN) in Boston followed up the announcement with the successful implementation of the "Cambridge 2 Cambridge" (C2C) competition. This raised awareness of the risks while inspiring talented students to become involved in protecting systems and the data they encompass.
SIN Boston's intervention brought together students from the Massachusetts Institute of Technology's (MIT) Computer Science & Artificial Intelligence Laboratory (CSAIL) and the University of Cambridge to collaborate in the special multi-day C2C competition at MIT. Students who qualified from the University of Cambridge in the UK came across the pond to take part in the competition. C2C featured a 24-hour "Capture the Flag"-style hackathon with mixed student teams from CSAIL and Cambridge, as well as a series of other mini-challenges that include lock-picking, password-cracking and code-breaking. Winning teams were awarded cash prizes courtesy of Microsoft. C2C subsequently won Best Cybersecurity Initiative from the UK Outstanding Security Performance Awards.
Following the success of the inaugural competition, in 2017 the event took place in the UK at the University of Cambridge. Talented students from 24 UK and US Universities competed for the cyber crown at the 3-day ethical hacking event backed by the National Cyber Security Centre (NCSC), Cabinet Office, Leidos, NCC Group and the National Science Foundation (NSF).110 students participated in C2C this year and were award over £20K in prizes.
C2C 2017 was supported by ForAllSecure, Immersive Labs, Context, KPMG, PaloAlto Networks, Wiley, and .tech DOMAINS.
Published 20 October 2017