World news story
UK's Naval Black Duke Visits Kuwait
HMS Monmouth visited Kuwait beginning of April to share and demonstrate the UK's naval experience to military students of 14 different nations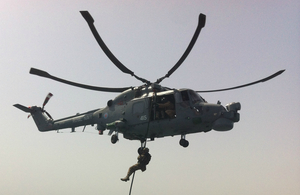 Over two days the Plymouth based Type 23 frigate HMS Monmouth gave both staff and students from the Kuwaiti Staff College a comprehensive display of the diverse range of self sustaining capabilities a modern sophisticated warship offers. Against the backdrop of the Black Duke's own impressive array of sensors and weapons systems, the guests were treated to a series of demonstrations of pursuit and boarding capabilities involving the Ship's sea boats, Lynx helicopter and embarked detachment of Royal Marines. Members of the Ship's company were also on hand to show off fire-fighting and damage control techniques, give presentations on the diverse roles and commitments of the Royal Navy and answer questions about what it takes to maintain a warship 5,000 miles from the UK for over 7 months.
As well as student from all 3 Kuwaiti services, the Ministry of Interior and National Guard of Kuwait the diverse range of countries represented on the Staff Course included: Australia, Bahrain, Canada, Egypt, Jordan, Kuwait, Oman, Pakistan, Qatar, Saudi Arabia, South Korea, Sudan, UAE and the UK. The ship was also able to welcome Brigadier Ed Browne, Commander of the British Military Mission to Kuwait, and was delighted to sail under the White Ensign along with the international students. The Brigadier was joined onboard for the day by Commodore Simon Ancona who, as the United Kingdom Maritime Component Commander is the operational head of the Royal Navy in the region.
Brigadier Browne said:
I've very much enjoyed the opportunity to spend the day at sea onboard HMS Monmouth. The Royal Navy and Kuwaiti navies work closely together to provide maritime security to the northern gulf, and today is a great example of the strength of that relationship.
Commenting on his ship's role in the demonstration, Commanding Officer of HMS Monmouth, Commander Gordon Ruddock RN, said:
Spending time at sea on a warship is the only way one can truly understand how the Royal Navy and maritime forces can deliver tactical activity to achieve a strategic effect. I am very pleased that, through HMS Monmouth, the Royal Navy is again able to support and positively influence the training of the future decision makers across so many countries. Of course, we all enjoy showing off what we can do, but the value of the past few days has been to assure our friends in the region of the United Kingdom's commitment to ensuring peace and stability in the long term.
The Plymouth-based warship is undertaking a 7 month deployment to the Gulf region as part of an international effort to deter piracy and smuggling, taking her turn to provide the standing commitment to Maritime security in the region which the Royal Navy has maintained for over 30 years. Handing over the duty to fellow Welsh affiliated warship HMS Dragon next month, the Black Duke will then return to the UK just before she celebrates her 20th year of service on 20 May 2013.
Published 15 April 2013