World news story
UK Royal Navy Dental Medical Services personnel in Vietnam as part of Pacific Partnership 2016
The UK Ministry of Defence has deployed a Royal Navy dental clinical team, led by Surgeon Commander Karl Drummond RN, to take part in the Vietnam leg of multinational engagement Pacific Partnership 2016.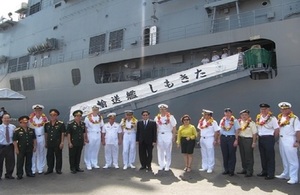 This marks the first time the UK has taken part in Pacific Partnership, the Vietnam leg of which began on 15 July when US hospital ship USNS MERCY (T-AH 19), Japanese Maritime Self Defence Force SHIMOKITA (LST-4002), and the Vietnam People's Navy ship Khánh Hòa 01 docked at Da Nang's Tiên Sa Port on 15 July.
Running in Vietnam until 28 July, the US Commander of PP16, Captain Tom Williams USN, said at an arrival press conference that the engagement seeks to strengthen humanitarian cooperation and friendship exchanges through enhancing security, disaster preparedness, and regional responsiveness, while meeting the needs of Vietnam and the city of Da Nang. With the focus of knowledge exchanges and by working together in a deliberate, sustainable, and transparent way, PP16 will improve collective capabilities and interoperability in disaster response across multiple disciplines with partner nations.
The UK Royal Navy Detachment Commander, Surgeon Commander Karl Drummond RN, will take a leading role in a 2-day multi-national dental summit in Da Nang. Meanwhile, working shoulder-to-shoulder with their international counterparts and their Vietnamese hosts, the team will also deliver dental treatment and preventative care to the community of the city, including operating on board the Vietnamese hospital ship Khanh Hoa 01. The UK team will also be engaged in community outreach, visiting orphanages, hospitals, and schools, as well as participating in international sporting events.
The UK Defence Attaché to Vietnam, Group Captain Tim Below RAF, said at the arrival ceremony that "PP16 demonstrates and further develops the UK's capability to interoperate with cooperative nations."
Working particularly closely with their Japanese counterparts, with whom the UK has a close and still strengthening relationship, on completion of the Vietnamese leg of PP16 the Royal Navy team will continue their deployment with the Japanese Maritime Self Defence Force SHIMOKITA as it sails on to Palau for a further 2-week deployment together.
Also within PP16, other nations will be working together to deliver engineering projects, and to promote Humanitarian Assistance and Disaster Relief skills through disaster preparedness development and community resilience capacity building; while through its medical engagements, PP16 also seeks to promote the theme of Women, Peace, and Security.
Now in its 11th year, Pacific Partnership is an annually recurring multinational Humanitarian Assistance and Disaster Relief engagement led by the US Pacific Fleet, and is the largest annual multilateral HADR preparedness mission conducted in the Indo-Asia-Pacific region. This is the 7th time that this event has taken place in Vietnam, and the 5th year in which Japan has participated.
In a practical demonstration of the UK's continuing commitment to the Asia Pacific region, 2016 marks the first time that the UK has joined the engagement, while this year is also the first year that a vessel of the Vietnamese People's Navy has been integrated into Pacific Partnership. Other nations partnering the USA in PP16 in Vietnam include Japan, Australia, New Zealand, and Canada.
Published 20 July 2016