Press release
UK retailers get export and investment action plan
Vince Cable launches UK Retail Industry International Action Plan at Retail Week Live the largest annual gathering of senior retailers.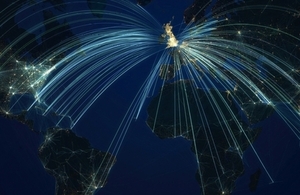 The government is backing Britain's retailers in their bid to expand into fast-growing and lucrative overseas markets.
Business Secretary Vince Cable today launched the UK Retail Industry International Action Plan at the largest annual gathering of senior retailers, Retail Week Live. The Action Plan was developed by UK Trade & Investment (UKTI) in association with the retail industry.
The global retail sector has held up well in recent years recording a compound annual growth rate of seven per cent. Sales are expected to grow by eight per cent annually through to 2016.
Business Secretary Vince Cable said:
The retail industry is a significant contributor to the UK economy employing more than three million people and generating £300 billion for our economy. British brands have a deservedly world class reputation for sustainability, quality and innovation.
The UK's dominance in e-commerce puts retailers in a world-beating position to capitalise on the fast growing demand for British goods and luxury brands.
As we rebalance the economy with more export-led growth, retail has an important role to play. With this action plan UKTI will back small and large retailers across the UK to grow and expand into new export markets.
British Retail Consortium Director General Helen Dickinson said:
British retail is world class and given the opportunity can be more successful in markets across the globe. We are delighted that UKTI, working together with the rest of government and with the retail industry, recognises the strength of British retail and is committed to helping it prosper in world markets.
This International Action Plan should make a real difference. It will ensure that retailers who need help and advice get it, and that the British government's efforts to tackle barriers to trade overseas are properly co-ordinated.
The two-year Action Plan sets out three major campaigns led by UKTI to assist retailers to grow internationally:
support for retailers to use all the available ways to reach international customers. Britain's 228,000 online retailers already export more than the rest of Europe's e-retailers put together
targeting the rapidly growing number of middle class consumers in priority markets where British luxury brands are highly prized including Mumbai, Beijing, Istanbul, St Petersburg, Shanghai, Mexico City, Sao Paulo and Warsaw
working with retailers to develop the UK experience economy offer to offshore customers. UK firms are well placed to win new international business leveraging Britain's unrivalled expertise at marrying retail opportunities with leisure and cultural institutions when developing new shopping destinations.
Building on London's status as the world's shopping capital UKTI will use its global network to attract more of the world's leading retail brands to invest and locate here.
Plans for Ministers to promote the retail sector internationally, work to resolve market access issues and support for retailers to re-engineer their supply chains are also outlined.
Notes to editors:
1.The action plan can be down loaded at UK Retail Industry – International Action Plan
2.The Action Plan aims to assist 1,000 businesses – 600 of them small and medium-sized businesses – with their international growth in the two years to March 2015.
3.It was developed following extensive consultation with the retail sector, including Alliance Boots, Aspinal of London, Best of Britannia, Boux Avenue, British Retail Consortium, CB Richard Ellis, Damartex UK, Debenhams, Euromonitor, Global Retail Forum, Hackett London, Hotel Chocolat, IMRG, Javelin Group, Jones Lang LaSalle, Kingfisher Plc, KPMG, Made.com, Marks & Spencer, Next, Simons Muirhead & Burton, T. M. Lewin, Tesco, Waitrose, Walpole Group and The White Company.
4.UK Retail Industry – International Action Plan is a complementary publication to the BIS Retail Strategy (October 2012)
5.The government's economic policy objective is to achieve 'strong, sustainable and balanced growth that is more evenly shared across the country and between industries'. It set four ambitions in the 'Plan for Growth' (PDF 1.7MB), published at Budget 2011:
to create the most competitive tax system in the G20
to make the UK the best place in Europe to start, finance and grow a business
to encourage investment and exports as a route to a more balanced economy
to create a more educated workforce that is the most flexible in Europe.
Work is underway across government to achieve these ambitions, including progress on more than 250 measures as part of the Growth Review. Developing an Industrial Strategy gives new impetus to this work by providing businesses, investors and the public with more clarity about the long-term direction in which the government wants the economy to travel.
2.UK Trade & Investment (UKTI) is the government Department that helps UK-based companies succeed in the global economy. We also help overseas companies bring their high quality investment to the UK's economy – acknowledged as Europe's best place from which to succeed in global business. UKTI offers expertise and contacts through its extensive network of specialists in the UK, and in British embassies and other diplomatic offices around the world. We provide companies with the tools they require to be competitive on the world stage. For more information on UKTI, visit www.ukti.gov.uk or visit the online newsroom at www.ukti.gov.uk/media.
Published 13 March 2013