Press release
UK responds to Russia's Security Council veto on Ukraine resolution
UK Ambassador tells UN: Russia stands isolated in UN and international community and a referendum tomorrow can have no credibility.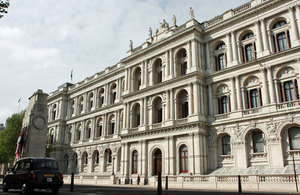 The United Nations Security Council met at 1500 (UK time) to discuss and vote on a resolution on Ukraine. The resolution was supported by 13 of the 15 Security Council members with one abstention, but Russia used its veto to prevent it passing.
Following the vote, UK Ambassador and Permanent Representative to United Nations, Mark Lyall Grant, delivered an explanation of the UK's vote in favour of the resolution to the UN Security Council. Mark Lyall Grant said:
"Thank you, Madam President.
"This resolution was designed to prevent further escalation of the crisis in Ukraine. It invited Council Members to uphold the sovereignty, unity and territorial integrity of a UN Member State, and reaffirm core UN principles. It was about sending a clear signal that holding a referendum in Crimea would take us further away from a diplomatic solution.
"The resounding message from today's vote is that Russia stands isolated in this Council, and in the international community.
"Russia alone backs this referendum. Russia alone is prepared to violate international law, disregard the UN Charter, and tear up its bilateral treaties. This message will be heard well beyond the walls of this chamber.
"Madam President,
"The position of the international community is clear. If this referendum is held tomorrow, it will have no validity, no credibility and no recognition.
"We trust that Russia will take notice of its isolation.
"On Thursday, we heard a clear message from the Prime Minister of Ukraine that Ukraine is willing to engage in dialogue with Russia to address its stated concerns.
"The ball is now firmly in Russia's court. If Russia fails to respond to Ukraine's outstretched hand, and instead continues with its military adventurism or seeks to take advantage of this illegal referendum, it will lead to further escalation of tension in the region and further consequences for Russia.
"We ask Russia to hear the collective voice of the international community today to rethink its actions, and to take the decision to work with Ukraine, and with the rest of the world, to find a peaceful solution."
Further information
Follow UK Ambassador to the UN Mark Lyall Grant on Twitter @LyallGrant
Follow the UK Mission to the United Nations on Twitter @UKUN_NewYork
Follow the Foreign Office on twitter @foreignoffice
Follow the Foreign Office on facebook and Google+
Published 15 March 2014