News story
UK research base most productive in the world
The UK is a world-leader in science and research according to a new report from BIS.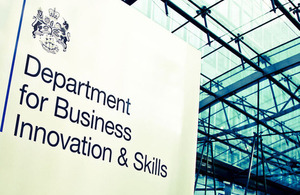 The 'International Comparative Performance of the UK Research Base 2011' report was compiled by Elsevier and published by the Department for Business, Innovation and Skills.
It shows that UK research attracts more citations per pound spent in overall research and development than any other country. It has also found that the UK research base is highly mobile, internationally competitive and diverse.
In his Gareth Roberts Memorial Lecture at the Royal Society of Medicine, Minister for Universities and Science David Willetts will say:
"A strong research base is vital to driving growth and innovation. This report highlights both the quality of our researchers and also the ability of our world-class institutions to attract the very best talent to this country.
"We are committed to maintaining this leading position and building on the UK's fantastic record of academic and scientific achievement. That's exactly why we protected the £4.6 billion science and research budget and have invested nearly an additional £300 million in science capital projects over the past year."
Main findings
UK research is high quality and efficient
UK research attracts more citations per pound spent in overall research and development than any other large country. UK research is top quality, accounting for 14 per cent of the world's highly-cited articles, the second largest share after the USA. The UK also has more articles per researcher, more citations per researcher, and more usage per article authored than researchers in US, China, Japan and Germany.
UK researchers are highly mobile and internationally competitive
Between 1996 and 2010, 63 per cent of UK researchers were also affiliated to a non-UK institution, showing that their knowledge and expertise is valued worldwide. Those who went away for less than a year and returned were 24 per cent more productive than the average, and others who spent longer periods abroad were 66 per cent more productive. These combined patterns of mobility and research excellence demonstrate that the efficient nature of UK research is underpinned by its ability to attract highly productive and internationally mobile researchers to work in the UK.
UK researchers are driving research performance
International collaboration is sizeable in the UK with half of all articles attributable to the UK in the five years since 2006 having also at least one non-UK author. New research nations like China or Brazil collaborate internationally much less, 15 per cent of their publications in this period. International collaboration underpins research excellence since having non-UK authors doubles the level of citation per article. International collaboration and international mobility reinforce each other as drivers of UK research performance.
UK research is diverse
The range of UK research is broad with particular strengths in the clinical sciences, health and medical sciences, social sciences, business and humanities, with high publishing activity and high citation impact in these areas. Even in areas where the publishing activity is not high, like engineering and mathematics, citation impact is higher than the world average, which means research is concentrated in small areas of high influence.
UK researchers are driving innovation
The proportion of moves to the private sector from university in the UK is around 66 per cent, which is similar to other large countries and has been shown to boost innovative activity in firms. There are also strong cross-sector knowledge flows, with more than 70 per cent of all downloads of corporate authored articles coming from users in the academic sector.
Links
Published 19 October 2011