UK requests withdrawal of Cote d'Ivoire Ambassador
The Foreign Office has informed Mr Philippe D Djangone-Bi that, as of 31 December 2010, he is no longer the Ambassador for Cote d'Ivoire to the United Kingdom of Great Britain and Northern Ireland.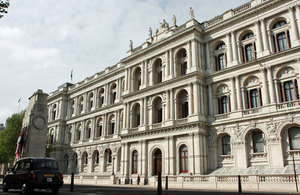 The FCO will be moving to recognise the appointee of President Alassane Ouattara in the usual manner.
Earlier this month, the EU Council decided to accept the Ambassadorial appointments of President Alassane Ouattara in EU capitals. As a result, it was agreed that Ambassadors who had been appointed by Mr Gbagbo would no longer have diplomatic status, privileges or immunities, including in the United Kingdom.
We have been advised by the Ministry of Foreign Affairs in Abidjan that, forthwith, Madame Kone epouse Toure Maman, Counsellor at the Embassy has been appointed Charge d'Affaires.
Published 31 December 2010