World news story
UK remembers the victims of the Peshawar School attack
British High Commissioner releases statement on first anniversary of the attack on the Army Public School in Peshawar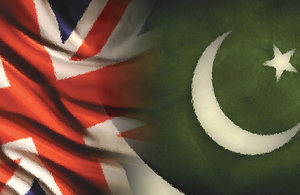 Philip Barton CMG OBE, the British High Commissioner to Pakistan, has offered his "heartfelt condolences" on the first anniversary of the attack on the Army Public School in Peshawar.
The British High Commissioner to Pakistan, Philip Barton CMG OBE said:
A year ago today, a barbaric terrorist attack on the Army Public School in Peshawar resulted in the death of over 150 people, the vast majority of them school children. On behalf of the United Kingdom, I would like to express my heartfelt condolences to all those who continue to be affected by that attack. We remember the sacrifice of all those killed in this horrific act of terrorism, in particular those young people cut down in their prime. We salute the courage of their parents and families who continue to suffer.
In recent weeks, countries across the world from France to the Lebanon, from the United States of America to Pakistan have seen terrible acts of indiscriminate violence by those who seek to terrorise our societies. As an international community, we stand united in our determination to stand up to terrorism.
Pakistan has suffered more than most. The United Kingdom stands shoulder to shoulder with Pakistan as it tackles this scourge.
Following the attack on 16 December 2014, Her Majesty Queen Elizabeth II sent a personal message of condolence to the President of Pakistan, His Excellency Mamnoon Hussain. The British Prime Minister David Cameron also wrote to Prime Minister Nawaz Sharif. The British Chief of the Defence Staff wrote to Pakistan's Chief of the Army Staff, General Raheel, to express the British Armed Forces' heartfelt sympathy.
Contact: Press Attaché, British High Commission, Islamabad; tel. 92 51 2012000
Published 15 December 2015