UK remains committed to Middle East solution
The Foreign Secretary, William Hague has outlined the UK's commitment to securing a deal on the two-state solution and peace in the Middle East.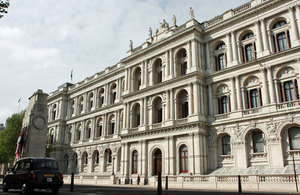 The Foreign Secretary met the Secretary General of the Arab league, Amre Moussa in London on 25 May. Their discussion included the Middle East Peace Process, and other regional issues.
During their discussion, the Foreign Secretary made clear that the UK remains committed to securing a two-state solution to the Arab-Israeli conflict and supports the US-led proximity talks.
He welcomed and recognised the importance of support from the Arab League for the proximity talks, and more widely the key role the Arab League plays in the region. Since his appointment, the Foreign Secretary has spoken to many of his counterparts in the Middle East and the Gulf, conveying the Government's desire to elevate Britain's links with the countries of the region and to build close working relationships in that process.
Published 27 May 2010