World news story
UK provides legal training to Ugandan army
High Commission Defence Adviser attends graduation ceremony after four week course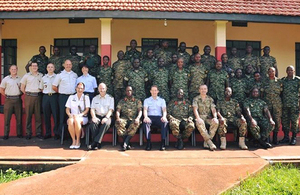 The British High Commission has helped to provide a ground-breaking package of legal training to the Uganda People's Defence Forces (UPDF). 25 UPDF Brigade Legal officers participated in the inaugural legal training course under the "LEGAD", which is supported by the UK. The training course has helped to build legal capacity within the UPDF, and improve professional standards in this key area of army work.
The successful graduates of the four-week course received their certificates at a ceremony held in Jinja, at the UPDF's Legal Training Centre, on 4 July 2015. The Defence Adviser at the British High Commission in Kampala, Lt Col Mike Nicholls, participated in the ceremony.
Trainers from the armed forces of the Netherlands also played an important role in delivering this key training course.
Published 7 July 2015