World news story
UK provides assistance in support if Tanzania's aviation security
UK Support Tanzania efforts to counter terrorism at Julius Nyerere International Airport by providing aviation security equipment and training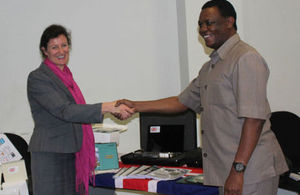 Britain's Acting High Commissioner to Tanzania, Mrs Penny Smith formally handed over aviation security equipment to the Tanzania Civil Aviation Authority (TCAA) and the Tanzania Airports Authority (TAA) on Friday 10th July 2015.
The equipment, including Liquid Test Strips to detect explosives, test pieces for X-ray machines and 'Walk Through Metal Detectors', and a selection of Aviation Security DVDS and other training aids, will assist in broadening aviation security detection capability at Julius Nyerere International Airport.
The Acting High Commissioner also presented certificates to airport staff who successfully participated in a UK 'Aviation Security Supervisors' course at the airport between 29 June – 3 July 2015.
Speaking at the event, the Acting High Commissioner said:
"Terrorism is a global issue. The UK Government is keen to continue its good working relationship with the Tanzania Government on aviation security in an effort to protect people from acts of terrorism. We are pleased to be able to handover specialist aviation security equipment to Julius Nyerere International Airport today and to run aviation security training courses. We should continue to help one another and share experiences in our efforts to improve aviation security standards across the region".